| | |
| --- | --- |
| Blue Wisp Big Band to Play at the Sorg Opera House on October 21 | |
Monday, October 09, 2017 7:30:14 AM - Monroe Ohio
Date night alert!
The famed 16 piece Blue Wisp Big Band takes the Sorg Opera House stage, Saturday, October 21 at 7:30 p.m. Tenor saxophonist
Brent Gallaher says, "We are thrilled to be performing at this beautiful venue
". The jazz ensemble will be playing the arrangements of Billy Byers, Thad Jones, Carroll Decamp and Al Kiger as well a few from current members. Avoid the ticket line by getting your $15.00 advance reserved seats at CincyTicket.com. Tickets will be $20.00 day of show.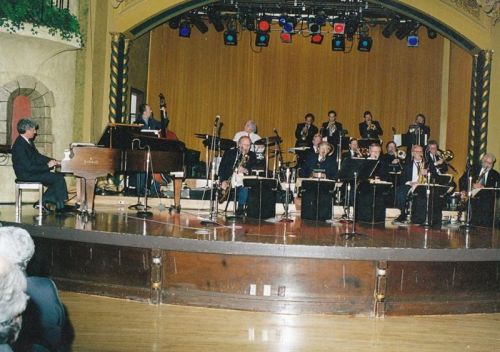 SORG's Ken Bowman says, "A tight big band on our stage should be a real treat. This is the perfect venue for a Blue Wisp Big Band concert." Bowman added concert goers might want to have dinner in downtown Middletown before the show. "If you've not been in the heart of the city for a while you'll be pleasantly surprised." SORG volunteers are decorating the theater for "Hocus Pocus" the following Saturday so Halloween costumes will be encouraged for the jazz concert.
To order tickets visit www.CincyTicket.com and select the date of October 21st or call 888 428 7311. Doors will open at 6:30 p.m. Saturday, October 21 with the first set at 7:30 p.m. All proceeds benefit SORG's renovation fund. The Sorg Opera House is located at 63 S. Main St., Middletown, OH, 45044. SORG is a 501(c)(3) non-profit organization.
Want to share this story on social media? Use this hashtag! #BlueWispBigBand