| | |
| --- | --- |
| Falcons advance to regional finals with 2-0 win | |
Wednesday, October 30, 2013 12:55:42 PM - Monroe Ohio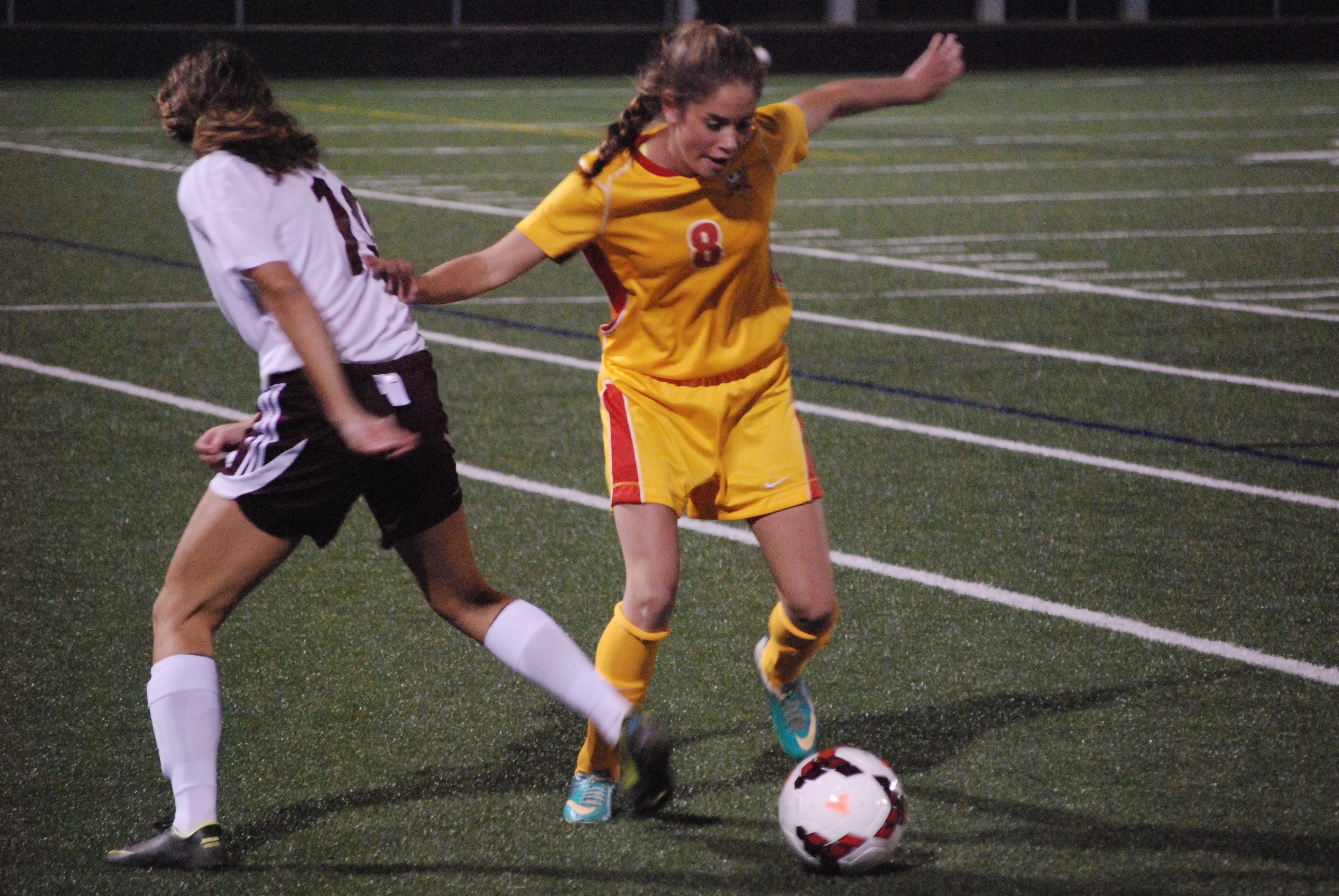 By Skip Weaver
Contributing Writer
HILLIARD – The Fenwick girls' soccer team will be playing in its fifth regional final in the last six years after defeating Columbus Academy 2-0 on Tuesday night in a Division III regional semifinal matchup at Hilliard Bradley High School near Columbus.
The Falcons also are the defending Division III state champions, and all that tournament experience is a big key to the program's success this year, according to Coach Tom McEwan.
You8 can't coach experience," McEwan said as his Falcons improved to 10-5-5 on the season. "We have a lot of girls who were with the team last year and they know what it takes to be successful at this level. They know if they put it all together they can be just as successful against this year."
That said, McEwan admitted he is still waiting for his team to play a solid 80-minute game.
"We have struggled to do that a bit," McEwan said. "But they all worked hard today and lived to play another day."
Katie McCarthy put the Falcons on the scoreboard with 26:16 remaining in the first half. The assist went to freshman Maggie Daigle, who helped set up the Falcons second-half goal by stepping over the ball which gave sophomore Leandra Hess a scoring opportunity against an unbalanced defense.
"I was running because Katie (McCarthy) had hit the ball to me," Daigle said. "But then I heard Leandra yell to let it go, so I let the ball go through my legs and just hoped she was there."
Hess was there and powered the ball into the net with 15:53 remaining in the game to give the Falcons a little breathing room.
"They were a hard team," Daigle said. "They were flying all over the field, so it was definitely great to get that second goal. It gave us a cushion just in case."
Columbus Academy continued to push the ball up field and had several scoring opportunities, but Fenwick goalkeeper Jenni Rossi made several diving saves, including one that appeared as if she was caught leaning the opposite direction and still made it back in time to knock the ball away.
"Jenni had some amazing saves," Daigle said.
Fenwick will play Lynchburg-Clay, a 4-1 winner over Zanesville West Muskingum, at 3 p.m. on Saturday in the regional finals at Bellbrook.
"When you get to the round of eight, nothing comes easy," McEwan said. "Every team is good, so we have to keep working hard."
Click on Falcons advance to regional finals with 2-0 win to see more on this story.