| | |
| --- | --- |
| Falcons fall in double overtime to rival Badin | |
Wednesday, November 06, 2013 11:10:51 AM - Monroe Ohio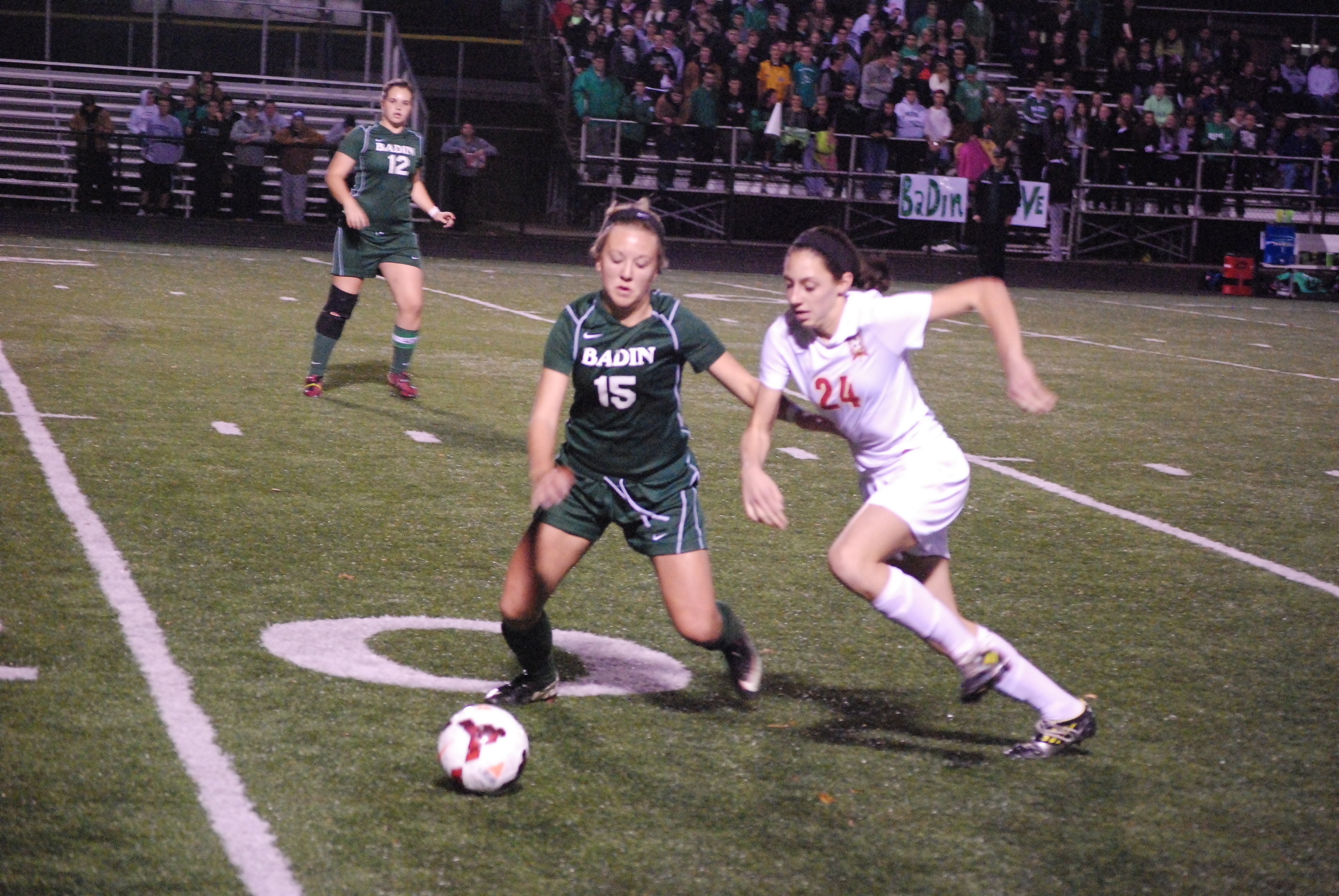 By Skip Weaver
Contributing Writer
LEBANON – Fenwick's bid for a second straight state championship ended Tuesday night in a Division III state semifinal matchup with longtime rival Badin at Lebanon's James VanDeGrift Stadium.
The Rams needed double overtime to nip the Falcons 2-1 and for the first time since 2007 earned a trip to the state finals at noon on Friday against Gates Mills Hawken at Columbus Crew Stadium.
"That's Badin-Fenwick for you," Fenwick co-coach Tom McEwan said of the nearly 100-minute battle with the Rams.
Badin coach Todd Berkley agreed.
"This is the best soccer there is to see," Berkely said. "The intensity level is so much higher when these two teams met. You know it is going to be a great game regardless of who you root for."
The first half was scoreless, but just a minute into the second half, Fenwick senior Margo Harknett got a shot off a corner kick that found the back of the net to put the Falcons on top 1-0.
The problem was they now had to work for 39 minutes to hold that lead.
"That is definitely a lot of clock to manage," McEwan said. "I think we stepped up and played well as a unit defensively after that because we knew they would keep pressing. I just wish we could have held on for five more minutes."
That's because with 5:39 left in regulation, the Rams finally capitalized on an opportunity. Sophomore Malia Berkely tied the game 1-1 with her 19th goal of the season of a corner kick.
The two teams played scoreless through overtime period, and with just four minutes off the clock in the second overtime period, Badin junior Madi Kah got a head shot into the net off another corner kick that sent the Rams sideline into a celebration.
"The girls believed they could get back to the state level and now all that extra work has paid off," Coach Berkely said.
For the defending state champion Falcons, it was a disappointing end to the season, but McEwan wished his opponents well in the state finals.
"The first thing is we knew coming into this game that the GCL would be represented in the state finals," McEwan said. "It is bittersweet that it is not us, but we wish Badin well.
"After losing an All-American player (Megan Blank) from last year's state championship team, we set our sights a little lower this year," he continued. "We felt we could get to the district level, so everything after that was a blessing. It is hard to get this far and lose, but these girls worked hard and left it all out there on the field. We exceed our expectations and I'm extremely proud of all of them for that."
Fenwick finished the season with an 11-6-5 record, while the Rams improved to 14-4-4.
Click Falcons fall in double overtime to rival Badin to see more discussion this topic.