| | |
| --- | --- |
| Monroe Boys 2017-2018 Basketball Club Tryouts | |
Tuesday, October 03, 2017 3:25:47 PM - Monroe Ohio
Monroe Boys Basketball Club 2017-2018 Grades 2nd through 6th
When:
• Games played on Saturdays and Sundays.
• Practices will be held at least twice a week in the evening.
Where:
• Teams will travel and play in the Dayton Metro Area. Some teams will play all of their games at the Kingdom Sports Center in Franklin.
Tryouts:
• Skills Day: Players in grades 3-6 will go through a series of drills and will receive a score based on their skill level. Players can come anytime between 10 - 2 pm on Saturday, Oct. 14th.
• Weekday tryouts will consist of dividing players into teams and playing full court games. Players will be evaluated on their basketball skills in a real game setting.
• New This Year, there will be a 2nd Grade team playing in the Dayton Metro League. Their Skills Day will be part of their separate tryout at 2:30 pm on Saturday, Oct 14th.
• Players must live in Monroe and/or attend Monroe Local Schools and play at their current grade level. • The # of teams per grade this year, will depend on the # of players available and skill level.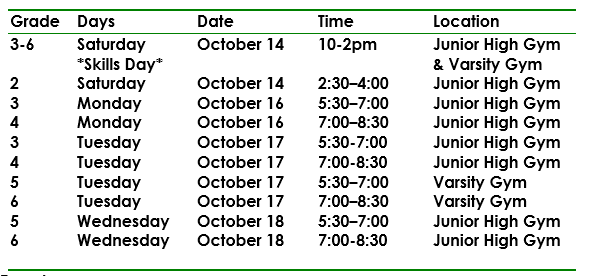 After Tryouts:
• A registration night will be held at the school for all players to fill out paperwork, try on uniforms and pay fees. A coach will contact you with the date and time. Please bring a copy of the player's birth certificate.
Costs:
• $75 if wearing last year's uniform or $110 with new uniform (Make checks payable to Monroe Youth Basketball) This fee covers the cost of referees, uniforms, league fees for the Dayton Metro League or Kingdom Sports Center League and school gym rental fees.
Expectations:
• All parents are expected to volunteer to cover the admissions table for at least one home game during the season. All players, coaches, parents and families will be expected to represent Monroe in a dignified fashion while at home or away games.
Coaches:
• If you are interested in coaching or assisting please contact Mark Osterman (266-3008) mao1802@att.net, Ed Beck (295-5079) ebeck1@cinci.rr.com, Kevin Taylor (252-7851) kevin.taylor@gtl.net.
There will be a K-3 Recreational League again this year at the Primary School with games on Saturdays. More information will be available soon regarding that league from Coach Waits.