Thursday, December 6, 2012 3:57:27 PM - Monroe Ohio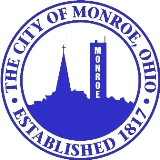 City of Monroe Exciting Job Opportunities
ASSISTANT FINANCE DIRECTOR
Job Description

City of Monroe, Ohio is accepting applicants for an Assistant Finance Director. Primary responsibilities involve budgetary monitoring and reporting, policy development, and financial software management. Other duties may include: purchasing; asset management; grant management and compliance; preparation of annual financial statements and other financial reports, acting as department head in the absence of the Director of Finance, and performing related duties as required.
Qualifications: Bachelor degree in accounting, finance, public administration or closely related field. Applicants must be a resident of the State of Ohio and hold a valid State of Ohio Driver License.
Experience: Minimum of five years experience in governmental accounting, supervisory experience preferred. Must have experience with Word, Excel, and financial software management/reporting, MUNIS software and Crystal Reports preferred.
Equivalent combination of education, experience and training will be considered.

Salary range: $50,000-$70,000

Send resume and completed application to Angela S. Wasson, City Manager's Office, City of Monroe, 233 South Main Street, Monroe, Ohio 45050 or email to wassona@monroeohio.org. Applications are available from the City receptionist or may be downloaded here. Position open until filled.
PATROL OFFICER
Job Description
The City of Monroe is accepting applications for the position of Patrol Officer. Applications may be obtained Monday-Friday 8:00 am to 5:00 pm at the Monroe City Building, 233 South Main Street, Monroe, Ohio or downloaded here. Completed applications must be returned no later than Wednesday, December 19, 2012 at 5:00 pm. All applications must be accompanied by a non-returnable $10.00 testing fee. Checks are to be made payable to the "City of Monroe". A written examination will be held in the Monroe Community Room located at 6 East Avenue, Monroe, Ohio, at 9:00 am on Saturday, December 29, 2012. All candidates must be on time and have a valid photo ID (i.e. driver's license) to gain admittance into the testing room. Any questions should be directed to the Office of the Personnel Board at 513-539-7374 extension 1012. A copy of your valid Ohio Driver's License must be submitted with the application.
LATE ARRIVALS OR CANDIDATES WITHOUT VALID ID WILL NOT BE ADMITTED!
Applicants upon passing (minimum 70%) the written test will receive: Military credit of 10% with DD-214 showing an honorable discharge. Training credit of 20% for Certificate providing proof of valid current Ohio Police Officer Certification. Experience credit of 10% with acceptable written documentation of three or more years of full time law enforcement experience. Educational credits of 5% for an Associates degree, 10% for a Bachelors, or 15% Masters/Doctorial. Acceptable evidence of the degree is required and must be from an accredited college or university. The maximum total credit allowed will be 25%.
ALL DOCUMENTATION FOR CREDIT MUST ACCOMPANY THE APPLICATION OR BE SUBMITTED BY THE APPLICATION DEADLINE. DOCUMENTATION WILL NOT BE ACCEPTED AT A LATER DATE. ABSOLUTELY NO EXCEPTIONS. IN ADDITION, PROVIDE A COPY OF YOUR VALID OHIO DRIVER'S LICENSE WITH YOUR APPLICATION.
Applicants must be at least 21 years of age and no more than 35 years of age at time of application or appointment. All applicants must have a valid Ohio driver's license and possess a high school diploma or equivalency (GED). Salary range is $38,989.00 to $56,452.00 per year. Applicants to whom conditional offers of employment are made shall be required to undergo psychological evaluations, medical examinations, and drug testing. The City of Monroe is an equal opportunity employer.
Directions to the Monroe Community Center: From I-75 take Exit 29 and turn west on State Route 63. Turn left on Main Street, left on Elm Street, and left on East Avenue. The Monroe Community Center is on the right.