| | |
| --- | --- |
| School Levy Debate Goes Down to the Wire | |
Tuesday, July 31, 2012 2:38:11 PM - Monroe Ohio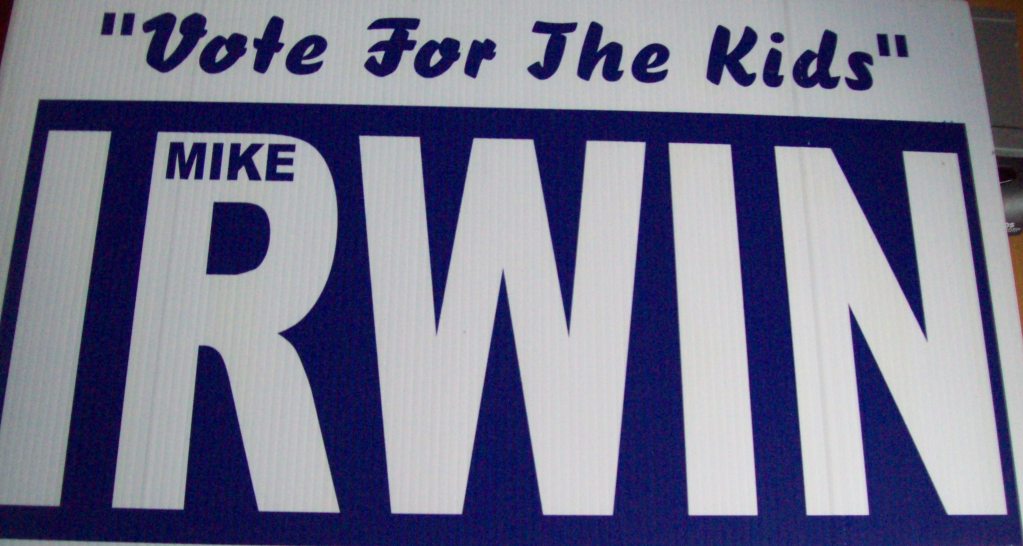 Clever Picture posted by itsforthekids, this was an old campaign sign, and it's ironic since former school board member, Mike Irwin, is campaigning against the levy.
by John Beagle
The sides have chimed in with over 10 different threads, hundreds of posts from dozens of posters. All in all nearly 3000 Monroe Area IPs have logged on to The Voice in the past 30 days. That's nearly 25% of the households in Monroe. And it could be argued that out of that 25% a high percentage are likely AND informed voters. Additional households in Middletown, Liberty and Lemon Townships have read stories about the most recent Monroe school levy.
The media is very interested in what is being said by Monroe residents. John Bombatch of the Middletown Journal has been soliciting our readers to help him with a Journal new story.
John
Starting Member


1 Posts

Posted - 07/25/2012 : 2:24:22 PM
Report Abuse

---

Hello all.
I'm John

Bombatch

with The Middletown Journal. I'm looking for Monroe citizens' viewpoints from BOTH sides of the tax levy issue. If you'd be interested in telling your side of the story, please contact me.

My office number is: (513) 705-2851

I hope to have a story for this weekend's Middletown Journal.

Thanks! -- John
On one side you have the entire school board and administration along with at least a dozen active posters.
On the other side you have former school board member, Mike Irwin and dozens more posters duking it out with real opinions, thoughts and feelings about the Levy.
On both sides, you have people stealing levy signs or posting signs on telephone poles.
There are acusations of intimidation of kids and parents on both sides of the issue both in and out of school.
There are several discussions asking Monroe Local Schools Superintendent Elizabeth Lolli to resign. One thread titled, Lolli Must Go - Or I vote No has reached over a thousand different Monroe households according to Google Analytics.
One poster wrote, "I pledge to vote yes if libbie goes. Only then will we know that the board is taking this seriously."

Another wrote in agreement, "Catastrophic mismanagement of funds resulting in an emergency & state takeover. I don't know how a school district could mess up any worse. The district has admitted us much by suing the auditors for not catching the errors.
Is Lolli an accountant? Nope. But she's the boss. And when the organization totally fails and breaks down, the leadership failed. That's why she and other top administrators like her get paid so much: we expect a lot in return and hold them accountable when they fail."
However in Lolli's defense a poster wrote, "and yet she delivered an excellent rated school district. lets also remember the treasurer doesn't report to the super."
Here are some of the most recent discussions:, Save Our Homes Vote No on the Levy??, Levy Information - Vote Yes and Lolli - give me the info, One Week From Today - Vote for the Kids.
What will happen to Monroe Local Schools if the Levy Fails or Passes? No one knows for sure but here are some information links:
What will the 7.05 five year levy actually pay for - A well thought out post by Mike Irwin.
How much will the levy cost you?
Monroe School Taxes WILL increase by 7 Mils - A well thought out post by Tom Birdwell
And these posts from earlier on: