| | |
| --- | --- |
| 2011 Monroe Year in Review | |
Monday, December 26, 2011 2:43:49 PM - Monroe Ohio
by Monroe News Staff
January 2011, the City of Monroe received an award from the state for 'Excellence in Financial Reporting," while Monroe Local Schools was facing an unknown LARGE deficit. Also during the month, Steve Black was appointed to City Council and the school district received $100K in Race to the Top Funds.


February 2011, a $1.45 Million I-75 Interchange Beautification project was discussed by council. Also in February, Monroe schools considered moving "inside millage" to the permanent Improvement Fund, Treasurer Thorpe explains here.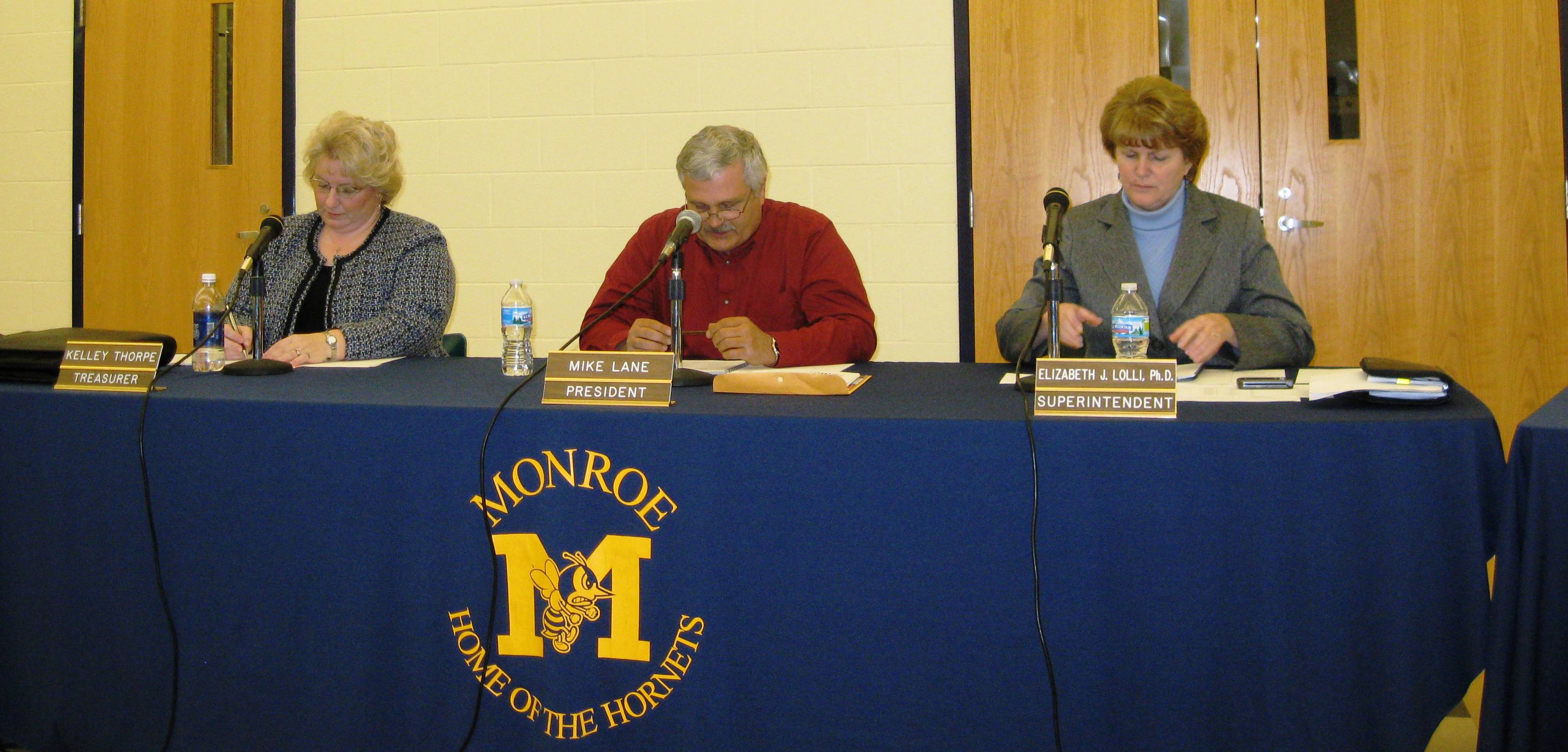 March 2011, the Monroe School Board and its two employees prepare for Teachers Collective Bargaining Negotiations.
May 2011, it was confirmed that Monroe will spend over $1 Million on the SunCoke Lawsuit. Monroe police collected 123.5 lbs of drugs on Drug Disposal Day. There were nearly $3 Million in Scholarships awarded to Monroe Seniors. Also in May, then Treasurer Kelley Thorpe announced that the school district will begin deficit spending starting in 2012. Sonya Beeler was announced as the new girls' basketball coach and the teachers had a 3-year contract approved by the school board.

Photo: 2011 Monroe School Board (Left to Right) Leslie Stone, Brett Guido, Mike Lane, John MacDonald, Chris Snyder
July 2011, the school hired a Director of Technology for $63.5K, and 13 people pulled petitions for six school board and council seats, 4 for school board positions and 9 for council. Also, July saw a high number of workzone crashes on I-75 in and near Monroe. July saw the first indications of the city moving to correct its deficit spending when the City Manager Bill Brock announced that the city hadn't been replacing workers for quite awhile. Additionally, the city manager made all city employees aware of potential cuts to staff.
August 2011, the board accepts the resignation of Kelley Thorpe as its treasurer, while superintendent Lolli announced that there was no book shortage despite the rumors to the contrary.
September 2011, it was announced that civil war days will take place over two days in October and MLS was put into Fiscal Caution by the Ohio Department of Education. Holly Cahall was hired as the school district's replacement treasurer. She was contracted to start November 1st, 2011.

Civil War Days Photo by Vincent Rush

October 2011, Mayor Routson cuts the ribbon at the new Monroe Lending Library, and the I-75 Interchange Enhancement Project was approved by a council vote of 4 to 3. There was also a council debate on video and Monroe had its first Civil War Days.
November 2011, election results showing all council incumbents keeping their seats. At the school board, Mike Lane was ousted, while Tom Birdwell and Tom Leeds were elected.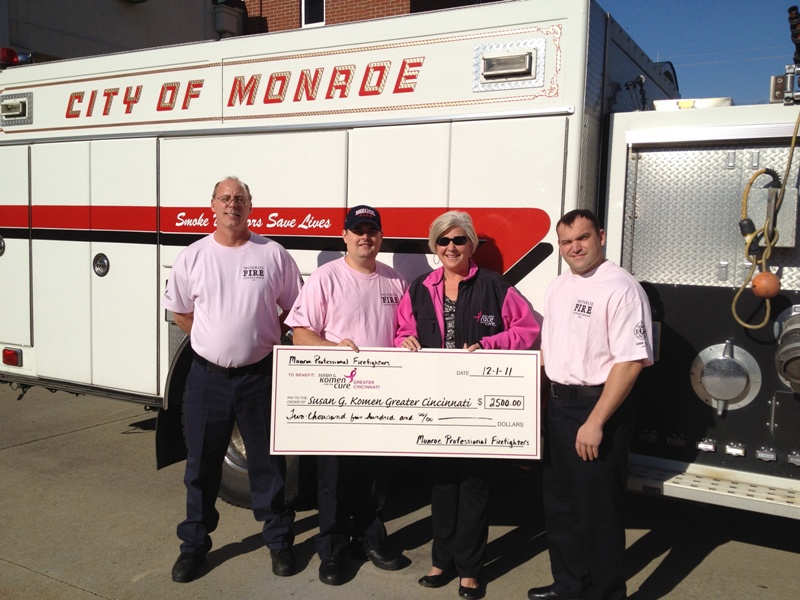 December 2011, Monroe Firefighters raised $2500 for Breast Cancer Awareness, Chief Neu was concerned with Middletown cutting their number of firefighters putting a burden on Monroe Firefighters. Forest Green trash removal company was hired for 2012, replacing Rumpke. Finally, Monroe Local Schools financial problems were upgraded to Fiscal Watch.
Top 2011 Discussions On The Voice
The $2 Million Gateway to Monroe
Monroe City Budget Gap: 5 to 7%
Monroe Civil War Days Facts
Monroe Projects $5 M Drop in Value
All Monroe Council Are "At Large"
Clock Tower Still Leaking, No Short Term Fix
Council Supports Light Up the Sky
Chipotle Opening?
New Trash Removal Company Likely
$16M facility Coming to Monroe
Monroe Selective Traffic Enforcement Program
Coal Lady Has Message for Council
So, the City Financial problems are solved???
Council Candidate Debate, Sun Nov 6th, 6:00 PM
Get out your coal shovels
Admissions Tax vs Traders World
The Spending Continues
Candidate Incumbents Say 'Monroe Will Be Polluted'
Monroe approves contracts with police unions
Chief Neu Worried about Mutual Aid with Mtown
Monroe Household Water Usage Down nearly 50%
Election Results for Monroe
Monroe Council Miffs Unions
What is going in across from Kroger?
Dog Park
City Asks You to Cleanup Your Home
Lt. Curlis Recognized by Chief Homer
Monroe Schools $2.7 Million Dollar Deficit 2012
Monroe Hornet Football Applicants
Monroe Schools to Begin Fiscal Caution
Thank You Ms.Toni Our Wonderful Bus driver~!
MLS: Insolvent by 2014?
Cahall, Lolli Working on Recovery Plan
BMI SCREENING AT SCHOOL
RECORD: $3 Million in Scholarships Awarded
Old High School for Sale?
Leahy, Shull 1 YR Contracts Approved
Possible Levy in May
MONROE'S SCHOOLS BONDGATE
Former Monroe Treasurer Declines to Comment
Monroe names Beeler as new girls basketball coach
New Treasurer Experienced with Fiscal Watch
96% of Monroe's Students Have Home Internet
Academic and Technology Booster Club Meeting 6/1
Monroe High School Short on Text Books
Lemon Monroe High Class 1981 30th Reunion 9/3
School Superintendent Pay Defended
2011 Monroe Scholarship Opportunities
open enrollment (really???)
Emergency Meeting With Treausrer Ulm (Revised)
Mayor: Monroe Got What We Sought On Appeal
McCoy: Monroe Did not Win Ruling on SunCoke
Sun coke incident under investigation