| | |
| --- | --- |
| 5th Annual MidFirst Ohio Challenge | |
Friday, March 23, 2007 2:31:02 PM - Monroe Ohio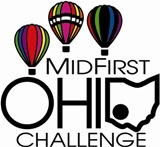 EARLY ALERT - 2007
It's not just hot air!
MIDDLETOWN, OHIO
Event:
5th Annual MidFirst Ohio Challenge
Hot Air Balloon Competition-Skydiving-Balloon Glows-Skydiving Fireworks-5K Run-Car Show-Arts & Crafts-Free Concerts-Food-Carnival-Leaps of Learning Children's Discovery Center
Date/Time:
Friday, July 20 – to
Saturday, July 21 – to
Sunday, July 22 – to
Grounds are open for early morning flight viewing.
Balloon Flights:
30 competition balloons, Fred B Rabbit and Rocket special shape balloons. Weather permitting, early morning and early evening flights. Friday & Saturday balloon glows.
Skydiving:
Team Fastrax Pro Skydiving Tour presents skydiving demonstrations and introduces the Midwest to competition skydiving. Sunday - water landings. Skydiver fireworks after the balloon glows on Friday and Saturday nights.
Geocaching:
Learn this new hi-tech treasure hunt game
2nd Annual Car Show:
Sunday Classic Car Show – Open to all vehicles
2nd Annual 5K Run:
The best regional runners go head to head on Saturday morning.
Arts & Crafts:
The finest of Midwestern artisans bring their works to MidFirst Ohio Challenge.
Site:
Smith Park, downtown Middletown, Ohio. Exit I-75 at SR 122 (Exit 32) and follow the signs. Middletown is mid-way between Dayton and Cincinnati, just off I-75 with easy access to many area attractions.
Cost:
$1 Adult Walk-in Admission, Children 12 and under FREE –OR- $5 per vehicle on-site parking (FREE admission for occupants of vehicles).
Sponsors:
Primary –
MidFirst Credit Union
Platinum + –
Middletown Community Foundation
Platinum–
Middletown Journal – Official Information Source
The Rebel/105.9 fm – Official Radio Station
StartSkyDiving.com
The Chamber of Commerce serving Middletown, Monroe & Trenton
Middletown Convention & Visitor Bureau/
City of Middletown
Gold-
JP Morgan Chase/Barnitz Fund
Silver
The Manchester Inn
Bronze
Rumpke
Bern's Garden Center
MobilComm
A combined, public/private project, the MidFirst Ohio
Challenge brings together government, business, non-profit groups and individuals working together for the good of the total community.
Executive Committee:
Chair – Rodney Hale, Johnson Controls
Treasurer/2003 Chair - David Pearce, Chase Commercial Bank
Balloon Pilot - Dr. Mark Frazer, Summit Family Physicians
Balloon Pilot - James Wannemacher, Triple J Investments
Team Fastrax Skydiver – David Hart, Jump Institute
City of Middletown – Ginger Smith, Public Works Director
Event Planner- Peggy Ketron
Publicist - Ann Mort
Contact:
Ann Mort-513-649-4506, 513-705-1770
Rmort@cinci.rr.com - www.ohiochallenge.com
1500 Central Avenue
Middletown, OH 45044