Friday, November 11, 2011 8:21:31 AM - Monroe Ohio
From Frances Sack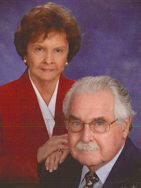 MIDDLETOWN, OHIO----- At Middletown Area Federation of Women's Clubs General Membership dinner last month LaVonne Michael, president, introduced Dr. and Mrs. John Varney, Honorary Chairs for this year's Charity Ball. The Ball will be held on Saturday, December 3 at the Pendleton Art Center in downtown Middletown. This year's theme is "Light the Way."
Dr. John Varney was born in Brooklyn, New York and received his BS degree from Holy Cross College & Western Reserve University and then in 1950 graduated from the University of Michigan Medical School. He did his residency in anesthesiology at Ohio State University and interned at Philadelphia Naval Hospital. He then went into private practice in Toledo, Ohio. However, he was recalled by the Navy in 1953 and was finally discharged in 1963 after over 19 years in the Navy. He originally enlisted on his 17th birthday in 1943.
Dr. Varney came to Middletown in 1957 as an anesthesiologist, retiring in 1989. With four other physicians he started the first limited partner association in the state of Ohio, Medical Specialists LTD, and in 1963 eventually formed an anesthesia group with three other anesthesiologists named the Associated Anesthesiologist INC. He is past president of Butler County Medical Society and member of many state and national anesthesia and medical societies.
Jayne Varney was born in Bucyrus, Ohio and was educated at The Ohio State University at White Cross School of Nursing. She and Dr. Varney met while he was interning at Toledo State Hospital and were married in 1951. She became a full time wife and mother when they moved to Middletown and volunteered at St. Mary's Catholic Elementary School for over 20 years (now John XXIII Elementary) and at Doty House for 15 years (now Abilities First). She was also a Girl Scout leader for 8 years and a day care nurse.
Dr. John and Jayne served together on the Charity Ball and Cotillion dance on several occasions. They also volunteered their time and donated to many events in the Middletown community that helped the local residents.
This year's Charity Ball will be held on Saturday, December 3 at the Pendleton Art Center in downtown Middletown. The evening will start at 6 pm with cash bar and holiday music provided by a Quartet from the Steve Shininger & The ShinSings Orchestra from Wright Pat Air Force Base; The schedule for the evening will also include a 7 pm sit down dinner with food provided by All About You Catering, 8:15 pm program, and dancing until midnight with music provided by Steve Shininger & The ShinSings 11 piece Orchestra from Wright Pat Air Force Base.
Cost is $50 per person or $100 per couple. Contributing as a Grand Patron for $150 includes dinner and a listing in the program–both include two admissions to the Ball. College age students may attend the evening festivities for a Junior Patron admission of $25. Checks should be sent to: Pat Miller, First Financial Bank – Trust Department, PO Box 220 Middletown, OH 45042. Your check will serve as your reservation.
In 2010 the MAFWC donations exceed the $1 million milestone contributed to various projects over the years. The first dance was held on December 27, 1921 at the Elks Temple that was located on Main Street in 1920 and netted $678.95.