| | |
| --- | --- |
| Adidas Thunder United wins 2000 NKY Challange Cup | |
Thursday, May 18, 2006 9:51:29 AM - Monroe Ohio
The adidas Thunder United FC95 GU10 Hericanes stormed into Northern KY and won the 2006 Northern Kentucky United Challenge Cup GU10 Red (Upper Division) May 13/14, 2006.

SAT: Won the first match against St Francis Firecrackers from Indiana with a score of 6 to 0. Won the second match against NK United 95 RED with score of 2 to 1.

SUN: Won the third match against NK United Huricanes with a score of 1 to 0. Final match was played against NK United 95 RED, adidas Thunder United won with a final score of 1 to 0. Leaving with a total 10 goals to opponents 1. adidas Thunder United Hericanes won with GREAT team play and were lead with outstanding play by Goal Keeper Courtney Barker by only giving up 1 goal in 4 games!


The girls are coached by Tim and Carla Snyder.
The girls are from Monroe, Lebanon, Middletown, Lakota, Edgewood,
Franklin and Little Miami School Districts.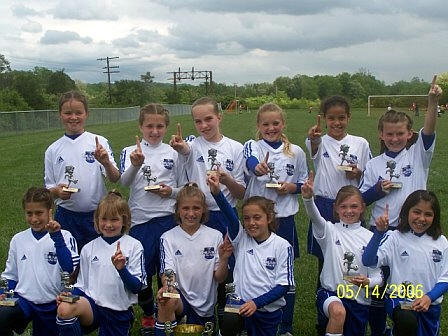 Top Row from L to R- Terrin, Kayla, Courtney, Kaleigh, Whitney, Courtney

Bottom Row- Alex, Brooke, Jenna, Kristin, Katie and Courtney