| | |
| --- | --- |
| Aeronca Awarded $12 Million Contract | |
Friday, July 11, 2008 11:33:41 AM - Monroe Ohio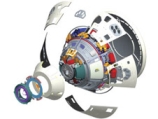 By Andy Wendt

Magellan Aerospace Corp, a Canadian Manufacturer of aerospace technology, announced yesterday that they have secured a $12 million contract to develop heat shields for the next generation of NASA spacecraft called the Orion. The shields will be produced at the Middletown, Ohio Aeronca facility located on Wedekind Drive which sits adjacent to the Middletown Municipal Airport just off of Rt. 4 on the cities West side.
The contract was actually awarded by Lockheed Martin who acts as NASA's prime contractor for the Orion project. The first Orion spacecraft is projected to go into service sometime after 2011. The Orion will carry a crew of four to six astronauts and is key part of Project Constellation which aims to return human exploration to the Moon by 2020 and in later years even to Mars.
The Orion will launch from the Kennedy Space Center and replace the aging fleet of Space Shuttles which are on track to be retired around 2010. For more information on the Orion Spacecraft visit the NASA Project Constellation web page.
The $12 million dollar contract was awarded to Aeronca in part due to their history with NASA during the Apollo missions when they manufactured almost the entire outer surface of the spacecraft.

Aeronca moved to its present location in Middletown, Ohio from Cincinnati in 1940 and is still remembered by many Middletown residents, including my mom who worked at the plant during World War II, as having manufactured over 17,000 airplanes including the Aeronca L-3 Grasshopper observation plane and a series of gliders and trainers all of which saw extensive use during the war.
Aficionados of these planes are still quite active and the Aeronca Aviators Club still holds an annual Fly-In scheduled this year for July 11 – 13 at Alliance-Barber Airport in Alliance, Ohio.

To comment on this story visit the Aeronca discussion on the Middletown Forums.