Wednesday, April 9, 2008 1:38:22 PM - Monroe Ohio
by: Jasmin Watson-El, Public Affairs Intern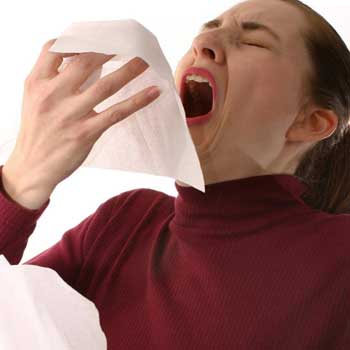 Spring is finally here, and for many of us that calls for a lot of recreation and outdoor activity. With outdoor activity, there may be many cases of allergies that can hinder spring time fun. More than 35 million people suffer from allergies in the United States.

An allergy is an overreaction of the immune system to a substance that usually causes no reaction in other individuals. These substances are called allergens and a small amount of one can cause an allergic person to react, although the reaction can vary for each person and each allergen. The two most common sources of allergens are pollen and mold.

Tree and grass pollens are the most common Southwest Ohio allergens and can be almost impossible to avoid. Oak, cedar, mulberry, maple, elm, poplar, box elder and grasses are the most prevalent sources of pollen in Southwest Ohio from late March through mid-July. After this time, ragweed, the most allergenic plant of North America, blooms from August through October. Mold spores are also in full swing all summer and can even be found indoors year-round.

Mold grows in warm, damp areas. It can lay dormant during the winter and cultivate and spread when the temperature rises in the summer. Outdoor mold spores are commonly found in decaying plant material, the most common being Alternaria, which causes problems for allergy sufferers. Mold can also be found indoors, especially in basements, kitchens, bathrooms and other damp areas. Mold is measured in spores per cubic meter, 501-1500 being a moderate level, 1501-5000 being high and anything over 5000 being very high.

Although there is no cure for allergies, here are a few tips to help ease allergy related symptoms:
• avoid areas with freshly cut grass
• minimize outdoor activity between 5 a.m. and 10 a.m. – when pollen levels are highest
• close windows and use an air conditioner to reduce the amount of allergens entering your home or car
• use an air filter and change the filter often
• bathe outdoor pets often and wipe them down when they come inside
• don't dry your clothes on an outside line, use a vented dryer
• avoid activities such as raking leaves, mowing the lawn and working with compost or wear a pollen mask while working outdoors and change clothes and shower as soon as you finish

The Hamilton County Department of Environmental Services (HCDOES) monitors and tracks pollen and mold levels during the growing season, which lasts from March to October. If you ever find a thin layer of yellow dust on your car on a spring morning, chances are pollen levels are high. This usually happens when trees are pollinating, from March through mid-July.

To learn more about pollen and mold in the Greater Cincinnati area, the Air Quality Management Division of HCDOES produces a free "Living with Allergies" brochure. The brochure explains more about allergies, their causes and how to help ease the discomfort from them.

For a free copy of the brochure, call 513-946-7754 or to keep track of the daily pollen and mold counts, residents can call the Pollen and Mold Hotline at (513) 946-7753 or visit www.hcdoes.org.