| | |
| --- | --- |
| Auditor Of State Yost Places Monroe Local Schools in Fiscal Emergency | |
Thursday, May 10, 2012 9:59:38 AM - Monroe Ohio
by John Beagle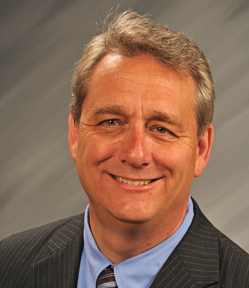 It's official, Monroe Locals Schools is now in fiscal emergency. But what does it mean to be in fiscal emergency?
Here is a little background on Fiscal Emergency. The original municipal fiscal emergency law was enacted in 1979 as a response to a financial crisis in the city of Cleveland.
Since that time, financial planning and supervision commissions have aided over 50 Ohio local governments declared in fiscal emergency. In 1996, legislation adopting a 'fiscal watch' was added as a sort of early warning system. Last year, 'fiscal caution' was established as a sort of early warning, warning. To determine if Monroe qualified for fiscal emergency, the Auditor of State conducted an initial review of entity finances, after which Monroe was subsequently placed in fiscal caution and then fiscal watch. See timeline below.
Photo: Auditor of State, Dave Yost
Due to Monroe Schools already being in "fiscal watch", Auditor of State Dave Yost took the next step and placed Monroe Schools in "fiscal emergency."
Fiscal emergency status will authorize the state to provide technical and support services to assist Monroe out of the financial crisis. Costs for this support would be borne by the State.
Related: Monroe Schools Improper Spending Being Audited for State Report
ODE Puts Monroe Local Schools in Fiscal Caution September 2011
Monroe Schools declared in Fiscal Watch December 2011
Monroe projecting a $5.3 Million Combined 2012 Deficit and Debt
Monroe will have an operating deficit of $2.2 million by the end of the 2012 school year ending June 30, 2012. Additionally there is the $3.1 million bond retirement fund debt. The Monroe School Board assumes no responsibility for the $3.1 million bond retirement fund debt since those funds were allegedly moved by former Treasurer Kelley Thorpe after reports were reviewed by the board. Blame is being put on the auditors and the former treasurer.
Financial Planning and Supervision Committee to be Created

A Financial Planning and Supervision Committee will now be created to assume all or part of the powers of the board of education and the three-member committee must be appointed with the next 15 days.
The FPSC committee will have the resposibility to develop a financial plan within 120 days of the first meeting. The commission is charged with directly addressing Monroe School's financial crisis. Dave Thompson of the Auditor of State's office will take an advisory role to help guide the process. David Thompson was the Chief Project Manager for the City Of Monroe's Fiscal Emergency back in 2004-2007.
-----------------------------------------------------------------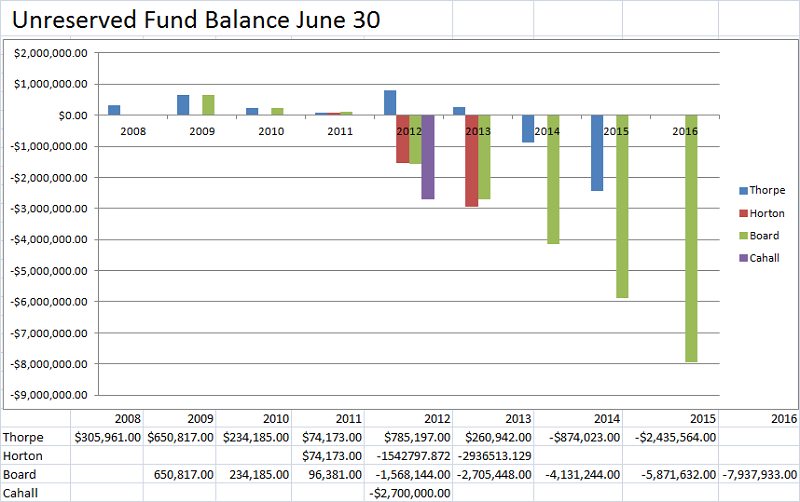 The Graph Above Shows forecasts from former Monroe Schools Treasurer Thorpe, Ohio DOE Auditor Horton, MLS School Board and current Treasurer Cahall.
Dateline: May 24, 2011, Monroe News reports that the Monroe School District will deficit spend starting in 2012 and will become insolvent by 2014 if major financial adjustments are not made. The community was kept in the dark regarding school finances from May 24 until September 27, when Hardin and Dean reported their findings.
In the report presented by School Treasurer Kelley Thorpe, the Five Year Forecast of the General Fund shows the cash position holding relatively unchanged from the previous year for 2010-2011.
Dateline July 22, 2011. Ken Ulm, hired as interim treasurer, discovers severe financial problem with MLS financial reporting.

Dateline July 25, 2011. Emergency $1.4 Million Borrowing
Dateline September 26, 2001. Roger Hardin from the State of Ohio Department of Education officially puts Monroe Schools in Fiscal Caution.
Dateline November 1, 2011. Ken Ulm, the interim treasurer, is replaced by the new Monroe Schools Treasurer, Holly Cahall.
Dateline November 30, 2011. ODE Recovery Plan Submitted
Dateline December 15, 2011. ODE puts MLS in Fiscal Watch

Dateline May 4, 2012. ODE puts MLS in Fiscal Emergency