| | |
| --- | --- |
| Brock Pleased with Support on Tax Issue | |
Thursday, February 9, 2006 6:02:59 PM - Monroe Ohio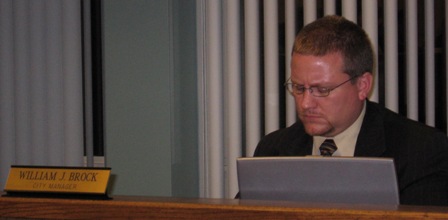 City Manager, Bill Brock, as expected was pleased to see the tax issue finally pass.

Brock said, "I was very happy to have so much support and effort put into the passage of the Income Tax. It was the last piece of the puzzle to move this City forward and get beyond the issues of the past. We will be looking to continue with building this community to fit its citizens. We will be doing this with involvement and input from the various citizen groups that exist in the community. Being fiscally responsible will continue to be our motivation in developing budgets for the future."
Other Voices from the community:
Suzi Rubin said, "Thanks to everyone for their questions, answers, help in getting the word out, and especially for voting (even if it was "no"). Please stay informed and involved. It makes this city a great place to live!"

Tom Birdwell said, "I figure anything that keeps city employees working and keeps Bob Kelly from behind the wheel of snowplows can't be bad. It took me two days to put my landscaping back in place last year. :) Congratulations to all who worked on the campaign."
Darrick Murphy said, "I think the voter education was a critical part of the campaign this time. So thank you to all who got the word out and to everyone who voted yes, especially if you will be paying more. I certainly don't expect to see the flood gate open on spending. It is not like a pot of gold materialized in the city building. City leaders have had plenty of experience stretching dollars over the few years and I suspect that the practice will be continued."