| | |
| --- | --- |
| Chelsea Property Group's SVP Michele Rothstein on Monroe's New Mall | |
Wednesday, June 24, 2009 2:29:29 PM - Monroe Ohio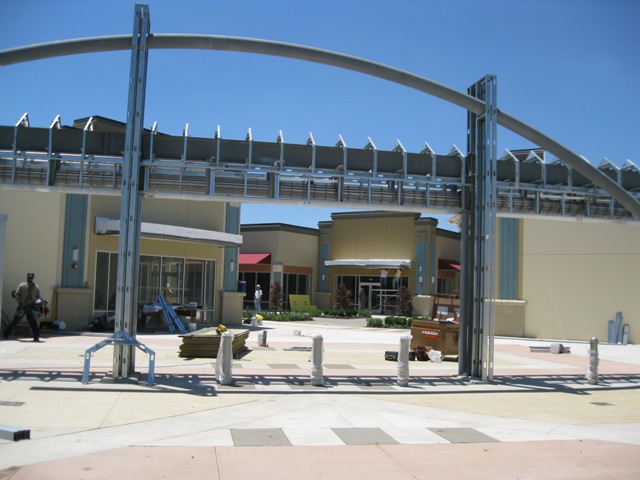 Photo: Front Entrance to the New Mall

by John Beagle

I interviewed Michele Rothstein, SVP of Marketing, Chelsea Property Group about the "Cincinnati Premium Outlets" opening soon in Monroe.

Mall owner, Chelsea Property Group was previously a New York Stock Exchange listed company. In October of 2004 CPG was acquired by Simon Property Group, Inc. of Indanapolis, Indiana. Chelsea Property Group is headquartered in in Roseland, New Jersey as a division of Simon.

Chelsea Property Group is the world's largest owner, developer and operator of upscale outlet centers. Its portfolio includes 49 Premium Outlet Centers® including 40 in the United States, seven in Japan, one in Korea and one in Mexico.Top properties include Woodbury Common Premium Outlets, near New York City; Orlando Premium Outlets, in Orlando, Florida; Wrentham Village Premium Outlets, near Boston; Desert Hills Premium Outlets, near Palm Springs, California; Las Vegas Premium Outlets, in Las Vegas, Nevada; and Chicago Premium Outlets, near Chicago, Illinois.

Chelsea plans to open Ami Premium Outlets in Japan and Cincinnati Premium Outlets in Monroe, Ohio this summer.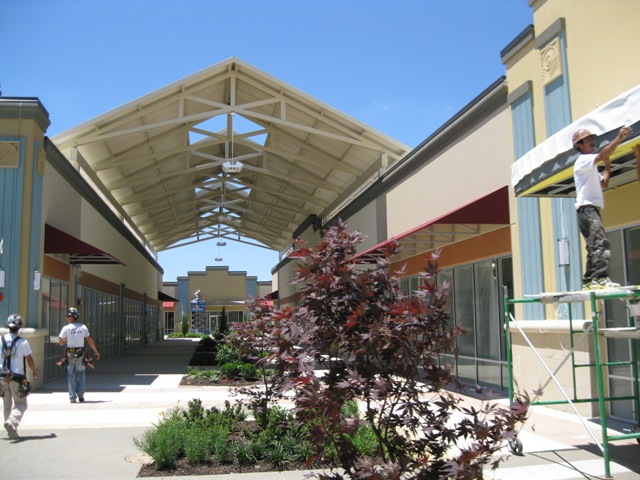 Photo: A View down one of numerous shopping lanes.

Beagle: How does this mall compare with other malls owned by your company.
Rothstein: Each of our outlet centers has its own architectural look and feel and theme and Cincinnati Premium Outlets will be no different. We believe we have built a very appealing center.

For the past few years, based on the size of centers were now build, we have a similar "racetrack" design for our site plan which basically means that the shopper can walk in a full circle and find shops on each side as they walk around the center. We have central Food Court and Information Center which we feel best serves shoppers. We are committed to providing shoppers with a first class shopping experience - we hope to surprise people who might not expect an outlet center to be so nice and to pay so much attention to customer service and the overall shopping experience.

Beagle: What are your anchor stores?
Rothstein: Unlike a traditional regional mall that has clear "anchor" department stores, outlet centers don't really have anchors per se but we do have some corner stores that are larger than others such as Saks Fifth Avenue Off 5th, Polo Ralph Lauren Factory Store and Nike Factory Store. Of course some of our most popular stores are not the largest - we anticipate stores like Coach to be very, very popular with area shoppers.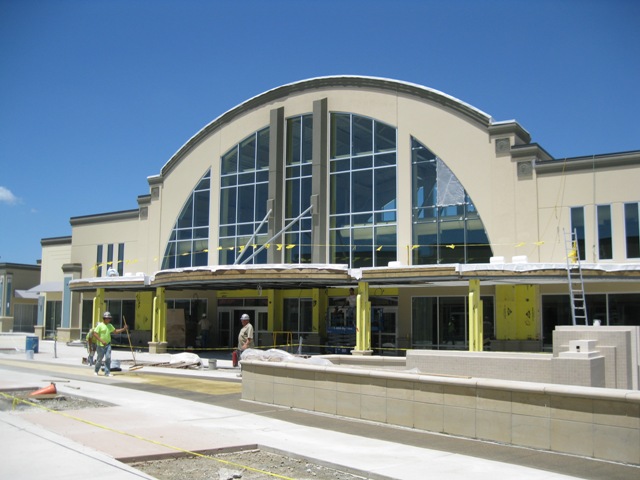 Photo: Food Court with water fountain feature in right foreground

Beagle: What are your traffic projections during the opening month and thereafter.
Rothstein: We do not make projections - we let each center build its own shopper base.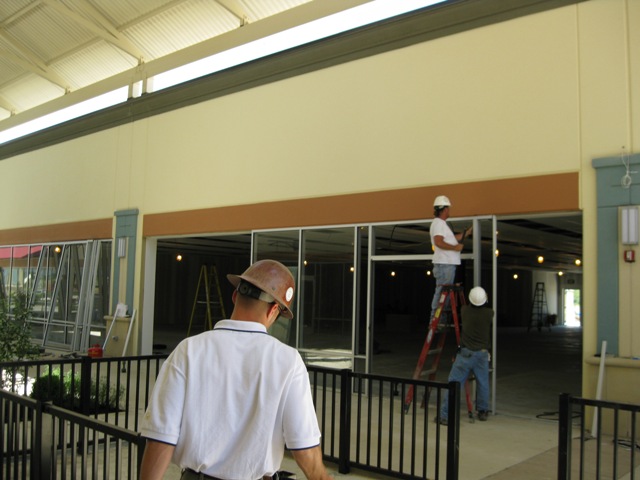 Photo: Worker installs Glass Door Front

Beagle: What are some of the 'unique features' of the mall
Rothstein: The deco style architecture and transportation theme will be unique to the center. And we believe that the mix of stores in this lovely environment will be seen as a great asset for shoppers.

Beagle: Talk about the economic impact the mall will have on Monroe and Middletown
Rothstein: In addition to the job created during construction and the jobs that will be created by all the new stores, there is generally a "halo effect" that our centers have and we hope this happens with Cincinnati Premium Outlets. With new consumers coming to the area, local restaurants, gas stations, hotels and more should see new customers.

Beagle: What is the current vacancy in sq feet and % of total sq feet.
Rothstein: It is rare for an outlet center to open fully occupied. While the majority of stores will open on August 6th, there are some stores that won't be able to make the opening and will open soon afterwards and in early 2010 as noted on our website. The remaining spaces will hopefully be leased soon after what we hope will be a successful opening. Some merchants in the outlet business take a "wait and see" approach.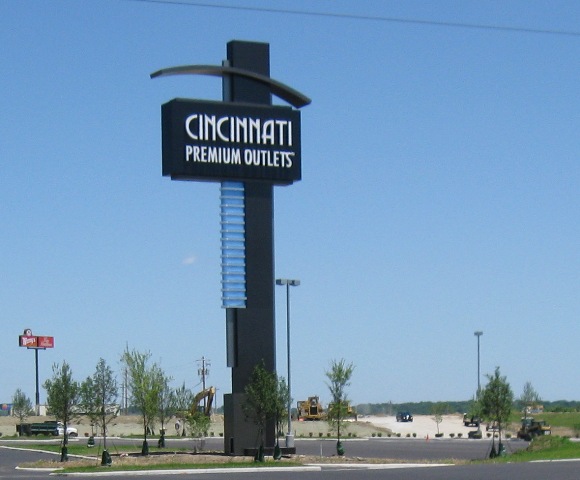 Photo: Sign Viewable from I-75 and RT-63

Beagle: Why did you choose Monroe?
Rothstein: Monroe allows us to serve the Cincinnati and Dayton metro area with a high quality outlet shopping experience. The local provides highway visibility and access which is very important for destination outlet centers. Based on the excitement, there is clearly a consumer need for the type of outlet centers we build. We look forward to serving the area.

Discuss on the Voice: Why did you choose Monroe for a Mall?