| | |
| --- | --- |
| Cincinnati Premium Outlets: Last Interview Prior to Opening in Monroe | |
Monday, August 3, 2009 3:59:18 PM - Monroe Ohio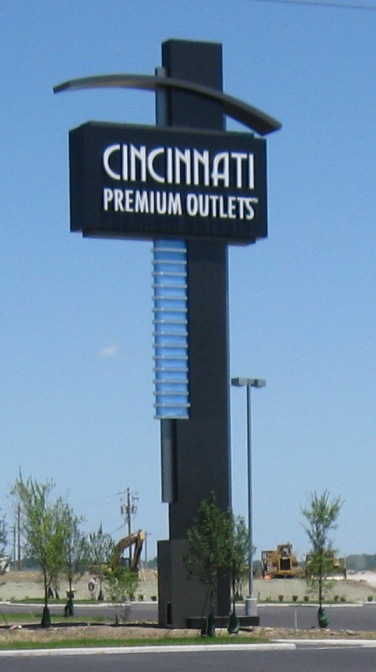 by John Beagle

My interview with Michele Rothstein, SVP of Marketing for Chelsea Property Group.

John: How much of the center is occupied?
Michele: Over 85% of the center is leased/committed.




John: What are your traffic estimates?


Michele

: We hestitate to make estimates as we would prefer to learn and see how traffic patterns emerge, which is what we do with all new centers. Centers of this size typically welcome 4 - 5 million visitors year. Some centers start off strong and level off other take a while to build its customer base.

John: How much will the construction at I-75 and Rt63 hurt business in your estimation?


Michele

: This is an ODOT project that was in process long before we announced our project and Chelsea has had no control over the construction or scheduling of the roadwork. We are working closely with ODOT, Monroe officials/Police and have a comprehensive traffic mitigration plan which includes reader boards, additional signage and a temporary lane on Route 63.

We have opened centers under similar circumstances and while construction is not optimum, our shoppers are generally enthusiastic enough to bear with these traffic issues. We have also extended hours for the opening with this in mind.




John: What stores are you most excited about? What new tenants do you have that had not been in any of your other locations?



Michele

: Aside from Riley's Furniture Outlet which is a local merchant, the group of stores opening at Cincinnati Premium Outlets are ones that we work with in other outlets and have proven track records with us. We are always excited to see the "latest and greatest" store designs from our merchants. They get nicer and nicer as the outlet shopper becomes more sophisticated. Saks Fifth Avenue Off 5th will open their latest prototype, a 'luxury in a loft' environment with increased luxury brands and more fine jewelry, shoes, handbags, sunglasses and sportswear. They recent opened this store concept/design in a recent expansion of our center in Camarillo, California and the customer response has been great.

Discuss: Last Pre Mall Opening Interview