| | |
| --- | --- |
| City Adds Staff including Assistant to City Manager | |
Thursday, September 27, 2007 10:32:06 AM - Monroe Ohio
by John Beagle
Monroe City Council approved 4 new positions:
1. ASSISTANT TO THE CITY MANAGER
2. PLANNER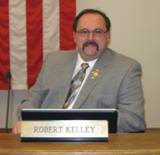 3. FIRE INSPECTOR
4. SECOND INCOME TAX AUDITOR
Council amended the salary range for Assistant to the City Manager IT $40,000 to $55,000 per year and the salary range for the Administrative Assistant as $32,500 to $42,500 per year.
Photo: Councilman Bob Kelley had the only dissenting vote.
The impact on city payrolls and related employee expenses is estimated in the $200,000 to $300,000 per year range.