| | |
| --- | --- |
| DARís N. Sackett Chapter Member is Vice President of Local Historic Society | |
Friday, May 8, 2020 12:07:45 PM - Monroe Ohio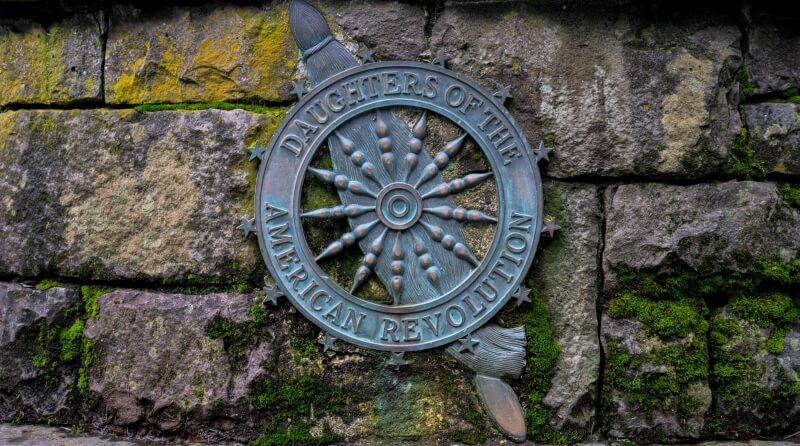 In addition to being active in the NSDAR Nathaniel Sackett Chapter in Monroe, OH, Terri Gertz-Kelsey is involved in her local community serving as Vice President of the Reading Historical Society. She has a long-standing legacy in Reading, the oldest of 15 children of Robert (Bob) and Andrea Gertz. For the past 55 years, her father Bob has owned and operated the Gertz Pony Keg. Her grandfather Charles E. Gertz served as the City of Reading Mayor during 1942-57 and again 1962-75. Terri and husband Mike have three children, Samantha (Sam), Paige and Evan. She serves the broader community as an oncology nurse at Good Samaritan Hospital in Cincinnati, OH, and volunteers as the school nurse for Sts. Peter and Paul Academy in Reading, OH. Terri finds time to volunteer as a Girl Scout leader and on her parish Sts. Peter and Paul Catholic Church's Network of Care / Parish Nurse Ministry.
She joined the NSDAR Nathaniel Sackett Chapter on February 5, 2019, proving direct lineage to a Patriot who aided in the American Revolution. Terri's Patriot, Joseph Dicken from Virginia, served as a Private in the U.S. Army. The NSDAR is a volunteer service organization based on lineage to someone who fought or gave aid to the American Revolution. The Society promotes preservation of historic buildings and artifacts; provides contests, awards and scholarships; supports schools and develops good citizens; and supports our veterans and military while celebrating the exceptional events in American history. It is the preservation of historic buildings, artifacts and history that has captured Terri's interests which mirrors the mission of the National Society Daughters of the American Revolution.
Terri shared her passion of the Reading Historical Society adding, "The saying on Reading's flag is 'From an Indian Trail to a City of Progress'. Since its founding in 1794, Reading has indeed grown. Many generations have left their marks here, and I feel it's important to keep those memories alive for generations to come." The Reading Historical Museum, located at 22 West Benson Street, Reading, OH, showcases many historical pieces. Upon entry, you'll find the Early American Parlor with fireplace, antique furniture including a piano. The center room, referred to as the Music Room, offers a tribute to the numerous Reading bands and, back in the day, most all churches had bands. The Military Room displays both an Army and Navy WWI uniform, military photographs and pieces. The Library Reading Room, on the second floor, hosts various materials including local cemetery records.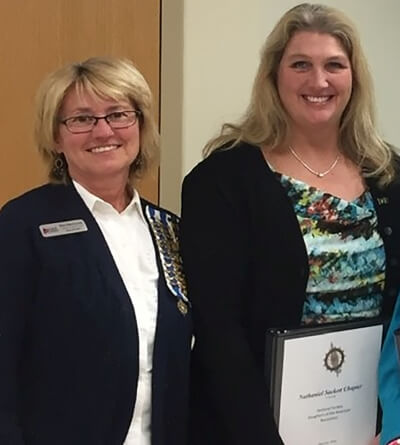 Pictured above: NSDAR Nathaniel Sackett Chapter Registrat Becky Jensen (Left) with Terri Gertz-Kelsey at Kelsey's induction ceremony into the National Society Daughters of the American Revolution
Knowing of her involvement and love of history, Nathaniel Sackett Chapter Regent Lois Sergent of Hamilton said, "All of our Nathaniel Sackett Chapter ladies are amazing. Terri is one more example of how outstanding they are and what a difference they make!"
On June 8, 2019, the Reading Historical Society unveiled the 100th Anniversary of the WWI Reading Doughboy, a project they funded. The day-long celebration began with a Ceremony at Veterans Plaza at the intersection of Jefferson and Vine Street with Master of Ceremony Jim Scott, featured speaker Congressman Brad Wenstrup and music by the U.S. Air Force Band of Flight. Following this event, they continued with the dedication of the Vietnam Veterans Monument and Reception at American Legion Post #69. Later in the day, a concert was provided by the UC Community Band at Koenig Park.
The Reading Historical Society hosts various events throughout the year. Presentations this past year, held at the local library, included The History of Country Music by Judy and Warren Waldron; The Tale of the B-24 Liberator Bomber shared by Paul Kightley of his father's plane shot down in WWII; John Kiesewetter shared his favorite stories about Bob Braun, Nick Clooney, Paul Dixon and others; former local athlete and NFL quarterback Tony Pike discussing youth sports in America in 2019 and "Celebrating 50 Years of the Little Miami Scenic River Status" by Former First Lady of Ohio Hope Taft and Aaron Rourke, Southwest Ohio Scenic River Manager. The Society's leadership shares historical presentations focusing on all areas of life.
Terri has a busy summer planned as the Historical Society hosts their yearly Settlement Day Dinner, presenting three awards to well-deserved honorees. Now in its 32nd year, the event has been moved from May to the fall of 2020, postponed due to Covid-19. According to their newsletter, the Individual Community Service Award will be presented to Burchy Schulte, a Reading graduate from the Class of 1949. He served in the U.S. Army Signal Corps during the Korean War (1953-1955). He has a long history of activities in his church, community and beyond. The Individual Community Service Award will also be presented to Donald and Rosalyn Lindeman, married for 53 years and have contributed much to their church, schools, and broader community. Don and Rose have served at their parish, Sts. Peter and Paul Catholic Church, for decades. The Reading Business Award will be presented this year to Every Now & Then Antique Furniture Mall. This local business is housed in an 1870's building, with beautiful showcases displayed in its large storefront windows. For the past three decades owner Derek Leach has focused his inventory on beautiful yet affordable antique furniture.
When asked about Terri's involvement, Reading Historical Society Treasurer (and Past President) Jim Lichtenberg said, "Terri is a strong supporter and member of the Reading Historical Society and will do anything for anybody!" Yearly membership of the Historical Society is $10 per person or $15 per family and can be mailed to President Jim Lichtenberg at 22 West Benson Street, Reading, OH 45215.
Nathaniel Sackett Chapter Vice Regent Nancy Hutton of Monroe added, "Terri's an outstanding example of the ladies involved in the Nathaniel Sackett Chapter and the National Society Daughters of the American Revolution. She represents the qualities and character strived for by both organizations."
For DAR membership inquiries and other questions about the Nathaniel Sackett Chapter, contact Lana Elliott at dar1776_4july@outlook.com. To learn more about DAR visit www.dar.org.