| | |
| --- | --- |
| Dewine: Internet Cafe's Rip Off | |
Monday, January 9, 2012 11:21:31 AM - Monroe Ohio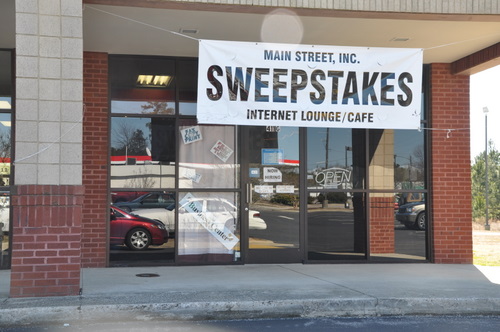 Photo: Interenet Cafe's often operate in Strip Centers
by Monroe News Staff
Last year Monroe council approved with restrictions a type of gambling business called Internet Sweepstakes Cafe.
Ohio Attorney General Mike DeWine on Friday called for more state regulation of Internet sweepstakes cafes.
"One of the jobs of the attorney general is to warn people in Ohio about the consumer rip off," DeWine said while standing outside a Dayton cafe.
Monroe requires a license application through the Zoning Enforcement Officer, testing of the devices by a testing laboratory, $2,000 license fee annual and $200 for each device, and creates a commission to look at and respond to complaints. The commission will be the City Manager, Mayor, and Finance Director. The legislation also controls where they can go, hours of operation, no alcohol, and no minors.
Middletown banned this type of entertainment. Middletown City Manager Judy Gilleland had this to say, "After consultation internally and with the Attorney General's office, the City believes that this is gambling, and is prohibited by Ohio law. The City has advised potential operators of that position."
Sources: Main Street Monroe, MiddletownUSA, Oxford Press