| | |
| --- | --- |
| EAST BEATS WEST AT THE MADISON 12U BOYS BASEBALL TOURNEY | |
Monday, May 19, 2008 2:39:31 PM - Monroe Ohio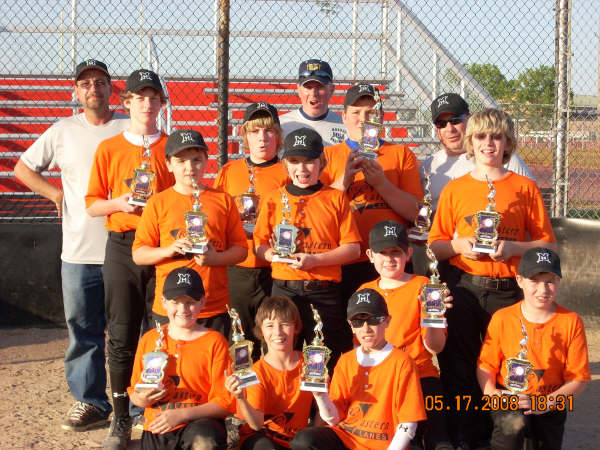 Pictured:
back row: Coaches Ron Clarke, Jeff Trimble, Rob Cummins
3rd row: Andrew Wolfe, Jake Clarke, Matt McKinney
2nd row: Ben Pyle, Chase Crawford, Brandon Cunningham
Kneeling: Steven Banks, Austin Snelling, Nick Cummins, Brent Trimble, Cody Timmings
by Jeff Trimble

Eastern Lanes went 4-1 winning the Madison Roster Tournament in the 12U boys division beating West Side Pizza 7-2 in the championship game on Saturday.

Eastern Lanes defeated West Side Pizza in the winners bracket finals 12-6. Cody Timmings cleaned the bases with hard hit single to center field gap earning 3 RBI's clinching the victory.

After West Side Pizza battled back through the losers brackett, they came back with a vengence and defeated Easterm Lanes in hard fought battle 13-8. Brent Trimble led the Eastern Lanes in hitting going 3 for 3 and scoring 2 runs. Nick Cummins and Chase Crawford scored 2 runs each as well.

In the Championship final game, Matt McKinney got the win striking out 7 batters in the first 3 innings. Jake Clarke pitched the next 3 innings earning the save. Matt McKinney sealed the deal with a Grand Slam over the fence in the bottom of the 5th inning. Nick Cummins and Brent Trimble each scored two runs each for Champs!

Coach Trimble is very proud of all the boys. It was a great team effort!