| | |
| --- | --- |
| Economic Factors affecting the City of Monroe | |
Wednesday, July 6, 2011 10:14:03 AM - Monroe Ohio
by Kacey Waggaman, Finance Director
The City of Monroe has become one of the fastest growing communities in southwest Ohio.
Monroe's population is currently 12,442 in the 2010 census (above the 7,133 from the 2000
census) and its land area comprises approximately 16.1 square miles of territory. Monroe is
located midway between downtown Cincinnati and Dayton. Monroe is served by a full
interchange at Interstate 75 as well as two 4-lane state highways, SR 4 and SR 63. Monroe is
also served by two major rail lines providing rail served industrial sites.
The City continued to see the development through building permits issued in 2010. Currently
the City contains 18 approved residential subdivisions with many unbuilt dwelling units. Monroe
also has 6 industrial subdivisions under development. Citywide, Monroe has approximately
3,300 acres of vacant industrial and commercially zoned land with direct access to all utilities
and road frontage.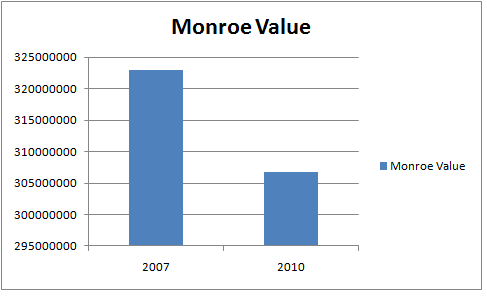 For 2010, the City's assessed valuation of $306,783,200 remained below the
2007 levels of $323,003,135. Monroe collected, on the cash-basis, $6.2 Million in local income
tax based on an earnings tax rate of 1.5% in 2010.
Monroe aggressively attracts and retains business using several different development financing
mechanisms. All industrially zoned property within the City has the Rural Enterprise Zone tax
incentive program and Community Reinvestment Area program in place. The City also utilizes
Tax Increment Financing and special assessment financing to facilitate eligible industrial
development.