| | |
| --- | --- |
| Fire at Local Restaurant - Lonestar Steakhouse & Saloon | |
Friday, August 8, 2008 9:55:17 AM - Monroe Ohio
by Kyle Thompson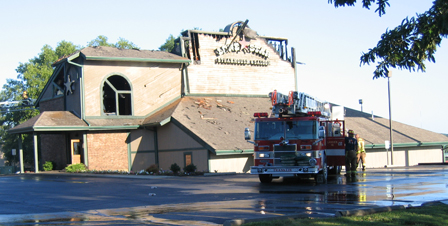 Crews from Middletown, Monroe, and Franklin were called out early this morning to battle a fire that started at the Lonestar Steakhouse which is located next door to the MiddletownUSA.com building on Roosevelt Parkway.

The fire started at around 1 a.m. Friday morning in the northwest section of the restaurant and spread quickly across the roof. Firefighters were forced to fight the fire from outside. It took the crews over 7 hours to completely douse the flames. At this time the cause of the fire is unknown.

No employees were in the building at the time of the fire. Investigators say that a passerby must have noticed the flames, which were shooting 10 to 15 feet into the air, and reported it.

Some 30 or 40 people were working at this Lonestar, but its clear that only construction crews will be working here for awhile.
Click here for full set of Lone Star Fire Photos