| | |
| --- | --- |
| Governor Strickland Pursuing More Students to go Through College | |
Monday, August 11, 2008 1:13:09 PM - Monroe Ohio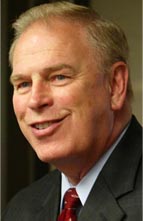 Given the concerns that some have recently shared about the relationship between Butler Tech and our local schools, as well as the suggested board conflict of interest with members serving on two boards, I thought it important to outline some upcoming changes that most certainly will impact our districts' relationships.

One long term problem between Ohio's career technology districts like Butler Tech, and our local school districts is funding. Fair or not, career technology programs some advantages, at both state and federal levels. Also, our career technology centers are able to limit their student enrollment, keeping it consistent with classroom space and funding. Obviously that is not an option available to our local schools. The disharmony from these funding issues has been controlled in recent years, as Butler Tech greatly increased its operation of programs within the associate schools themselves. But upcoming changes may soon create new problems, beyond funding, between the state's local vs. career technology districts. Let me explain.

All of our schools are caught up in the middle of Strickland's conversion of education in Ohio. He intends to put over a quarter of a million more students through college during the next 10 years. Adding so many new students simply will exceed the capacity of our state's colleges by far. The only way Strickland can reach even a modest fraction of his proposed numbers, is by using existing institutions like Butler Tech.

Under Strickland's initiative, by this time next year, Butler Tech will be granting college credit for its stronger adult education offerings. These will include specific courses in the LPN, police, fire, and EMS programs. Their coursework has already been submitted to the state's Board of Regents for review. This will be a very low cost means of attending college, while still in quality programs. It is also important to note that while our K-12 schools and JVS schools like Butler Tech today still will come under the Department of Education; the new college programs proposed will be managed by the Board of Regents, yet another source of jealously by the local districts. Perhaps a year after approval of college credit for many adult programs, some of Butler Tech's high school programs will grant college credit under Strickland's seniors to sophomore's initiative as well. That is all good news for out students; however in my view these changes will cause jealousy and friction between local districts and Butler Tech.

That college credit granting authority will NOT be granted to our K-12 schools. Thus while the local schools effectively control Butler Tech, through having one of their board members represent them on its board, the fact remains that Butler Tech will have considerable new authority, and this will greatly exacerbate the simmering problems in the schools' relationships. It goes beyond money.

Ten years ago, D Russell Lee and Butler Tech were viewed by many of our high schools as a dumping ground for our less capable students. They still are in some circles. Today more than 25% of students at D. Russell Lee are on IEP's for example. But in recent years, Butler Tech has created some incredible high end programs, pre-engineering for example, and many of our county's best students are now enrolled in them. Looking into the future, under Strickland's new program I can easily envision large numbers of our best and brightest high school students opting to attend Butler Tech instead of our local schools. Why? They surely will realize the advantages, saving a year or more of college. How will our local schools react to mass flight of many of their best students? Clearly this will become a big thorn in the school's relationships.

Already, a couple of Butler Tech board members feel one way to avoid this is for Butler Tech to simply not participate in Strickland's college programs. While that might eliminate the friction between organizations, it would be a gross disservice to our students, denying them the opportunities of Strickland's initiative. So in my view, the adults involved are going to have to find a way to play well with others.

Closing this circle discussion, the state's requirement that JV board members be currently serving local school board members is a mixed blessing. It gives our local schools control of the Butler Tech consortium and protects their interests. But like it or not, we simply have no choice in the matter. It is the law. I would strongly support changes in Ohio Revised Code, making our JV boards separately elected by the public, just as Butler County's Educational Service Center board is today. But without change in Ohio Revised Code, this is out of our control.
- Tom Birdwell
Butler Tech's board is being debated whether or not it should be composed of representatives from the local school boards. Certain people see a conflict between the districts, and some want the local schools to retain control of Butler Tech. Once all of the classes are acredited by the regents then all Ohio public colleges will be required to accept the credits to be transferred.