| | |
| --- | --- |
| Happy Hearts Head Start Builds a Box-O-SaurUs | |
Monday, March 20, 2006 10:05:49 PM - Monroe Ohio
March 20, 2006
Happy Hearts Head Start Builds a Box-O-SaurUs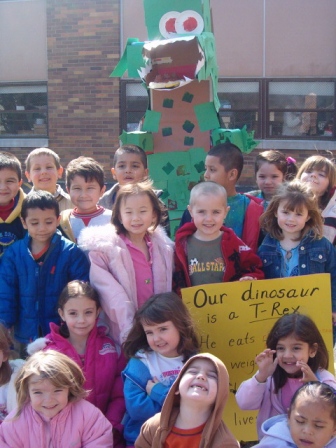 The preschool children at the Warren County Community Services Head Start site in South Lebanon have been learning about dinosaurs. The families sent in cardboard boxes, and the children created their own dinosaur. Pictured are children in Cindy Shaw and Barb Howard's class from the Mason and Lebanon area.
Warren County Community Services Head Start is a nationally accredited preschool program that prepares children from low income families for success in kindergarten. The Head Start curriculum meets state all Ohio Early Learning Content Standards as well as federally mandated child outcomes. Special emphasis is placed on early literacy skills, social skills, and language development. There are two teachers for each class of 18 children, and all teachers have either a degree in Early Childhood Education or a Child Development Associate credential.
There is no cost for enrollment in part day Head Start. To be eligible for Head Start, the child must be 3 or 4 years old, and the family must meet federal income guidelines. A child with a disability and an IEP from the school district may also be eligible if the family's income is over the guidelines. Full day, full year child care is available for working parents at the Lebanon location through the new state-funded Early Learning Initiative (ELI) program. Income eligibility for ELI is higher than the federal guidelines for part day Head Start, and families with income under 165% of poverty do not have a co-pay. Head Start applications will be accepted until the end of March. For more information about Head Start, contact Brenda Smith at (513) 695-2215 or (513) 261-2215. To apply for the ELI full day program, contact Karen Baker at (513) 695-1444.