| | |
| --- | --- |
| Hornet Homecoming Spoiled By Eagles | |
Sunday, October 3, 2010 9:16:03 AM - Monroe Ohio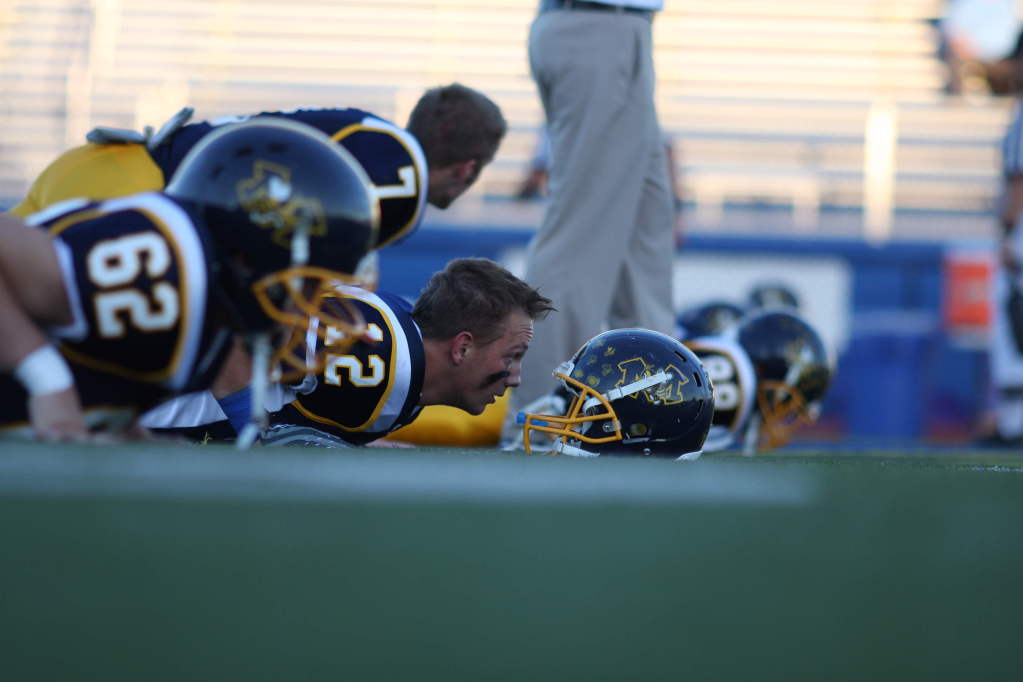 Pre-game Photo by Bryan Garde
Story By Tim Kellis
Monroe's 2010 Homecoming game was spoiled by the Eaton Eagles this past Friday night. Eaton came into the game with a perfect 5-0 record, had not allowed any opponents to score more than one TD and neither of those things changed after their game Vs. Monroe. Led by the hard running of junior back Nathan Clark, who amassed a total of 210 yards on a whopping 42, carries, the Eagles piled up 332 yards on the ground in their 42-7 triumph. Eaton led 7-0 at the end of the first quarter; their first score came with 7:11 to play when Junior QB Cole French connected with Joey McCafferty from seven yards out.
Eaton would score once more in the first half with 59.9 seconds to go when Clark bulled in from 6 yards out. At the half it was Eaton 14 Monroe 0. Eaton received the opening kickoff but on their first possession they fumbled the ball away to Monroe and 2 plays later the Hornets were on the board when senior back
Devin King scored from 3 yards out. The extra point by Jamey King made it 14-7 Eaton. Eaton answered the Hornet score 51 seconds later on a 2 play 62 yard drive. The big play coming when McCafferty darted and dashed 51 yards for the Eagle TD. McCafferty's score came with 10:15 to play in third. From that point on it was all Eaton all the time. The Eagles would score 3 more times, all on short runs by Clark ( 1,2,2), each time the PAT was good by French. During halftime seniors Logan Stanger and Taylor Hartman were crowned Homecoming King and Queen respectively.
Eaton will likely move to the top spot in this week's Harbin rankings as previously number one Roger Bacon was defeated Friday night. Monroe returns to action this coming Friday with a home game Vs SWBL divisional opponent Brookville. All fans are encouraged to come out and be vocal, as the Hornets need to snap their two game losing streak. Monroe will also honor their 3 undefeated regular season teams at this weeks game.