| | |
| --- | --- |
| Hornets Win First Road Game Of 2010 | |
Sunday, September 12, 2010 4:19:35 PM - Monroe Ohio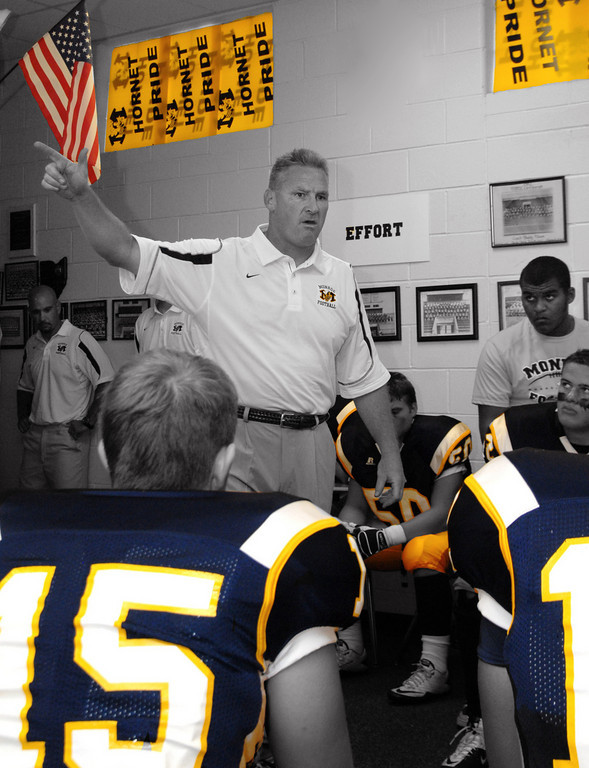 Photo by Vincent Rush
by Tim Kellis
Monroe traveled to Talawanda Friday for their first road game of the season and came away with a hard fought 44-28 win. Monroe outscored the Braves 27-14 in the fourth quarter to break open a close contest. Monroe's total offense tallied 434 yards, with 249 of those coming on the ground. Talawanda opened the scoring with a 5 play 71 yard drive capped off by a 45 yard run by Jake Jackson with 7:52 to play in the first quarter.
Five minutes later Monroe answered with a 10 play 76 yard drive of their own resulting in a one yard plunge by Devin King, Jamey King added the PAT to tie the score at 7. Monroe took a 10-7 lead into the locker room at halftime thanks to a 42 yard field goal by Jamey King with 3:55 to play in the half. Both teams managed a touchdown each in the third quarter-Devin King scored from a yard out to end a 8 play 50 yard drive that took 3:21 off the clock, Jamey King added the PAT.
Four minutes and forty seven seconds later Jake Hendricks matched King's one yard run with one of his own after a 10 play sixty five yard drive by Talawanda. The fourth quarter was fast and furious with big plays from both teams and a total of 41 points scored. Monroe got on the board first as once again it was Devin King, scoring his third TD, and again it was a one yard run finishing off a 11 play 69 yard drive. Jamey King added the PAT.
Three minutes later Monroe would strike again as Quarterback David Rouston lofted a short pass to Ramone Boyce and Boyce turned the play into a 44 yard touchdown. PAT by Jamey King was good. The celebration on the Hornet sideline didn't last long as Marshall Newman took the ensuing kickoff to the house for a Talawanda touchdown. Newman's run covered 92 yards. The PAT by Austin Haidet was good. Thirty one seconds later sophomore Chris Wilson raced 58 yards for a Monroe touchdown. The PAT by Jamey King was good again. Twenty Four seconds later Monroe put the last nail in the Braves coffin when Lamar Hodges intercepted a Casey Abrams pass and sixty nine yards later he and his Hornet teammates were celebrating in the end zone. Jamey King's PAT was no good.
Talawanda would score the games final points twenty seven seconds after the Hodges pick six on a sixty five yard pass from Abrams to Andrew Richards. The PAT by Austin Haidet was good. Monroe improved to 2-1 , Talawanda fell to 0-3. Monroe remains on the road next week as they travel up I-75 to face the Franklin Wildcats (2-1) in the inaugural Booster Bowl. The winning team will take possession of the Booster Bowl traveling Trophy until next year's re-match.