| | |
| --- | --- |
| It's Official, Elizabeth Lolli is our new Superintendent | |
Wednesday, November 21, 2007 11:10:22 AM - Monroe Ohio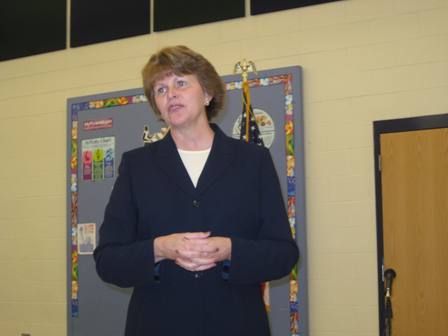 By John Beagle and Denise Wilson
Almost 100 were on hand to welcome Dr. Elizabeth Lolli, 51, Monroe's new superintendent beginning January 3, 2008.
In a special meeting last night, Monroe school Board voted 4-0 in approval of hiring Lolli. She currently is the superintendent of Barberton City Schools near Akron.
She was awarded a four-year contract, which terminates on July 31, 2012. The Monroe school district will pay her $112,000 a year.
"To think that a school district has been built from the ground floor up and to achieve the successes that you've achieved is outstanding. And I'm looking forward to continuing those successes that the district has already had and continuing moving the district forward," said Elizabeth Lolli.
A Madison High School graduate, Lolli said she plans to build upon the successes that the district has already achieved since its inception in 2000.
Dr. Lolli is replacing current superintendent Arnol Elam who is retiring at the end of December.
Educational Background:
Madison High School Degree
Bachelor of Music Degree from Miami University in Oxford
Master of Educational Administration Degree from Xavier University
Doctor of Philosophy in Education Leadership Degree from Miami University