| | |
| --- | --- |
| Jason Krause's Fate: Middletown School Board to Vote Tonight | |
Monday, April 28, 2008 10:36:31 AM - Monroe Ohio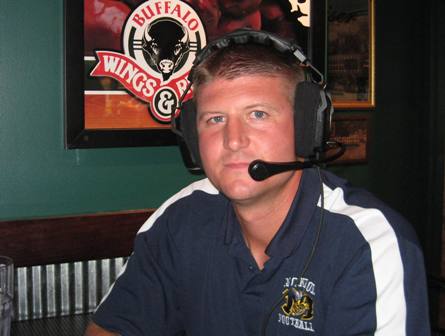 Photo: Coach Jason Krause on Hornet Radio


by John Beagle

The fate of Monroe's Football Coach, Jason Krause will be decided at the Middletown School Board Meeting tonight. Although Krause is expected to be the next Middie Football Head Coach, he is up against Bishop Rudy Pringle, who would rather see a black coach instead of a white coach. Coach Krause is white.

At the head of the Middletown School Board sits Reverend Greg Tyus, who has stood beside Bishop Pringle in previous occasions with a similar complaint to Middletown City Council.
Other board members, Katie McNeil, Marchia Andrew, Chris Giora and John Sauter are expected to approve Coach Krause as the next Middie Head Football Coach.