| | |
| --- | --- |
| Kacey Waggaman, Monroe Finance Director Interview | |
Friday, November 2, 2007 11:36:39 AM - Monroe Ohio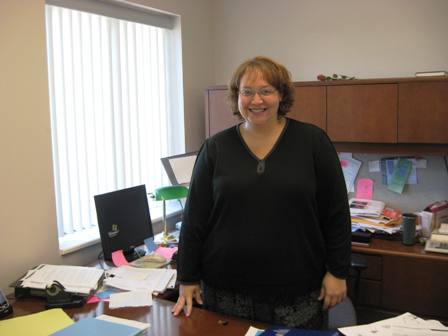 Photo: Kacey Waggaman, Finance Director for the City of Monroe.
by John Beagle

Monroe Council Action recently approved the expenditure of $22,650 for the purchase of income tax software. In a recent interview, I asked Ms. Waggaman about that expenditure.
When did you determine we needed new City Financial Software?
Back in June I started the process of searching for a new financial software system. Our current system does not provide adequate functionality for the increased volume my department is experiencing due to the recent growth in the City. Obviously we are at the early stages of development, so this situation will continue to get worse.
Who did you get involved in the process?
My entire staff has been involved in the process and I have been providing updates to the City Manager, Department Heads and Finance Committee. The need for a new system was discussed with Council during their retreat early this year and it has also been discussed with the Audit Committee.
How many Software Vendors did you consider?
We have reviewed or are in process of reviewing seven different systems. My staff and I have viewed demonstrations of the different systems, checked references of current clients as well as other Cities currently evaluating new systems, and requested quotes from those that we were impressed with. During our weekly staff meetings we have evaluated each system and narrowed down the candidates. We are currently looking at two systems and deciding which will be the best fit for us. We have gone on a site visit for one of the systems and are in process of scheduling the second so that I and my staff can see how other Cities are actually using the products and what their employees think of the software functionality, customer support, training, and how the implementation process was handled.
What were some of you goals?
As we began our search, our goal was to get an all inclusive system so that we would not need to patch several systems together or duplicate work. However, as we started viewing the demos, it was apparent that this was not going to happen. Most of the systems did not offer an income tax module. Ohio is one of the few states that has local income tax, so there is not a high enough demand for the national companies to dedicate development dollars in this area. Our tax commissioner researched stand-alone tax systems and found two with the functionality level we were looking for. We chose MITS (Municipal Income Tax Solutions) which is part of the Baldwin group. Our mayor's court software is from the Baldwin group, so we are already familiar with the company. Another plus was that our tax commissioner used an earlier version of MITS at her previous employer and was extremely happy with it.
Their website is www.mitstax.com and they currently have 85 municipal clients in Ohio, which was also impressive.

The other tax system we looked at was City Tax from Innovative Software Systems. Their quote was $31,114.

Why did you buy now?
Due to the facts we would need to purchase a stand-alone tax module, we had enough available budget left to purchase it this year, and purchasing it now would allow us to get it running in time to utilize the software next year, I took it to Council prior to finalizing our decision on the overall system change. The overall system change has always been planned on coming out of the 2008 budget. Being able to use the software for next year also provides us with a savings of approximately $6,000 as we will not need to purchase tax forms from a printer.
Is support included? 90 days of support is included in the purchase price, then it is 15% of the license fee annually. What about upgrades, bugs and fixes? All included in the support fee.

Is this for billing and collection of Income Tax? Yes. Can this be integrated online with the city website? If an additional module is purchased (E-file Solution), this is a relatively new feature and Tracy and I decided to wait to see how it works for the City's that are currently using it.

What were some of the lower bids? This was the lowest bid.

Was there any other software purchased by the city recently? Not by the finance department. Our last purchase was at the beginning of the year for the Mayor's Court.