| | |
| --- | --- |
| Lane, Snyder elected, Pierce Retires from Monroe School Board | |
Wednesday, November 7, 2007 10:39:42 AM - Monroe Ohio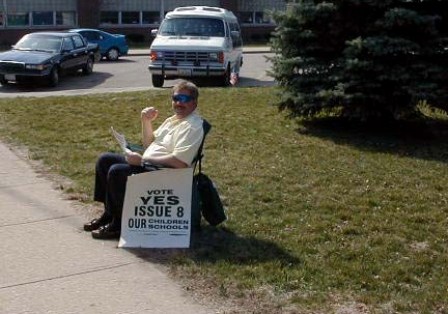 Photo: Jamie Pierce in 1999, when he campaigned for the creation of a new Monroe School District
by John Beagle
UPS driver, Mike Lane was elected to Monroe school board along with former school board president, Chris Snyder. Mr. Snyder was re-elected to the position.
This will be the first time on the school board for Mike Lane.
Lane and Snyder ran unopposed.
Jamie Pierce was the first school board president for the newly formed Monroe Local School District. He has been on the school board since inception. Mr. Pierce decided not to run and will be leaving the school board at the end of his term.