| | |
| --- | --- |
| LeSourdsville Lake book debuts at Traders World | |
Wednesday, May 11, 2011 3:03:49 PM - Monroe Ohio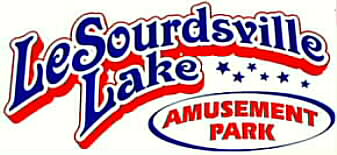 by Bill Robinson
Little did Scott Fowler know that being sent to the attic to retrieve catering supplies, as part of his duties as a LeSourdsville Lake employee, would result in the beginning of a lifelong passion for amusement parks and their history. On May 21 Fowler's book, LeSourdsville Lake Amusement Park, will make its debut as part of Arcadia Publishing Company's Images of America series at Traders World in Monroe.
Originally hired to work in the Ice Cream Shop in Tombstone Territory, LeSourdsville's nod to the old West, Fowler eventually ended up working in the restaurant near the main gate of the park. When sent to retrieve items for catering an event, he noticed the well-crafted beams of the attic and noticed the time someone took to create that seemingly simple space. His love of architecture and history melded to create an ever-evolving interest in the park and its history.
"Even after I left the park," said Fowler, "I followed what was going on in the park in the news, and that prodded me to research its past." Because of his avid interest in local history, Fowler became a member of the Butler County Historical Society, the Monroe Historical Society, and the Fairfield Historical Society, as well as the historian for the Fairfield High School Alumni Association. A Fairfield High School graduate, Fowler attended Sinclair College in Dayton, receiving associate degrees in Law Enforcement, Communications and Liberal Arts. He is currently working on his B.A. in Criminal Justice Management at Franklin University in Columbus, Ohio.
His interest in Lesourdsville Lake's history led to his interest in other parks in the area. He is co-founder and vice president of the Southwest Ohio Amusement Park Historical Association, Inc., a group dedicated to "preserving the memories of 17 parks that once called southwest Ohio home," according to Fowler.
"LeSourdsville Lake, also known as Americana Amusement Park by a generation of visitors, was a popular recreational park for many decades despite being located within 15 miles of Kings Island, one of the premier theme parks in the country," said Fowler. "The emphasis on providing quality food and personalized catering enabled the park to host hundreds of annual company picnics, high school proms, and family reunions. The park's success was maintained by featuring such classic rides as the Electric Rainbow and the Whip and the Screechin' Eagle and Serpent roller coasters, while the Stardust Gardens provided quality entertainment ranging from the best of the big bands to the greatest music and television stars of the 1960s. Families visited "the Lake" as religiously as they drove the same route to work every day."
"Lesourdsville Lake was located halfway between Middletown and Hamilton, Ohio in a rural area originally known as the village of LeSourdsville, " said Fowler. "For a short time in the early 1800's, the village thrived since it served as a convenient resting stop for travelers and workers using the Miami-Erie Canal which ran through the village."
"The park itself was founded in 1922 by Middletown hardware store owner, Edgar Streifthau, who was looking for another way to make money on the weekends. His goal was to develop a clean, safe place for residents to swim and picnic."
The park did not became a "traditional" amusement park until 1934 when a Middletown draftsman, Don Dazey, was hired to design a new bathhouse to replace the one that had been destroyed a few months earlier by an accidental fire.
"Don Dazey got along so well with Streifthau," said Fowler, "he was offered financial interest in the park, and he became the park manager that season. Shortly after that, Dazey began adding the traditional amusement park rides, including the legendary wooden roller coaster in 1939. He also instituted company picnics which became the financial backbone of the park until 1999."
When Don Dazey passed away suddenly in 1959, the park was put up for sale. It was purchased by former Cedar Point concessionaires, Howard Berni and Frank Murru. In 1964, Middletown resident William "Bill" Barr became a partner with Berni and contributed his ideas to help make LeSourdsville Lake the favorite park for hundreds of thousands of patrons.
Fowler's new book, LeSourdsville Lake Amusement Park, will give former park patrons a chance to relive the park's former glory and take a look behind the scenes. Don Dazey constructed the famous "Stardust Gardens" where many of the greatest names of the Big Band Era played. Glenn Miller, Tommy Dorsey, and Stan Kenton, all graced the Gardens' stage. Howard Berni and Bill Barr wielded the hammers that built the old Dry Gulch Saloon in Tombstone Territory, where patrons listened to live country bands each weekend. Bigger and bolder rides graced the midway alongside traditional favorites. Big name acts of the day sang and played from the midway stage - names like Ricky Nelson, Dick Clark, Roy Clark, Boxcar Willie, Gary Lewis and the Playboys, and Rick Saucedo as Elvis. Live shows by local favorites Bob Braun, Paul Dixon, and "The Cool Ghoul" brought out fans in droves. All of this and more is part of the mystique that was "The Lake" and it comes alive once again in this latest Arcadia publication by Scott Fowler.
Saturday and Sunday, May 21 & 22, Fowler will debut the book at Traders World and be on hand from 11 a.m. until 4 p.m. on Saturday, and from 12 noon until 4 p.m. on Sunday to sign books and share memories with others for whom LeSourdsville Lake Amusement Park was a very special place.
Books can be purchased at Traders World or at www.Arcadiapublishing.com or at www.soaphs.com. Traders World is located at exit 29, east of I-75, halfway between Dayton and Cincinnati…just like LeSourdsville Lake Amusement Park, once upon a time.