| | |
| --- | --- |
| Library Director: Library is Board Decision | |
Tuesday, July 3, 2012 2:47:24 PM - Monroe Ohio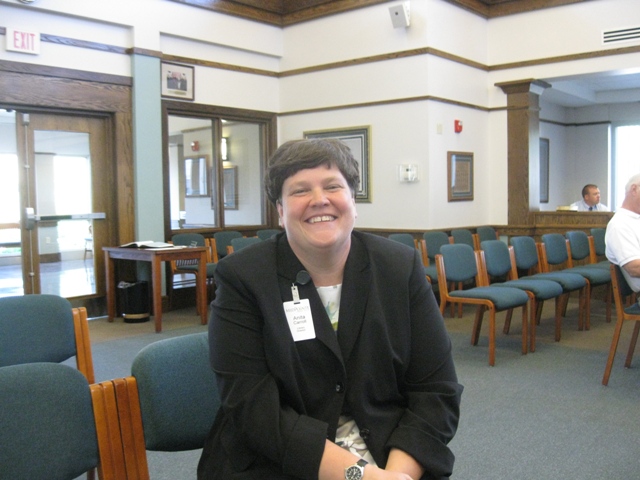 Photo: MidPointe Library Director, Anita G. Carroll
by John Beagle
Anita Carroll from the Midpointe Library system made a presentation on a Potential Monroe Branch Library to council last week. The abandoned IGA building was specifically mentioned as a location.
Midpointe operates the Middletown, Trenton, and West Chester libraries and is considering expanding to Monroe based on geographic location and a sizable donation from the will of former Monroe resident, Doris Rothwell. According to Doris Rothwell's will, 75% of her estate was to go to the library system for the establishment of a 'public library' in Monroe.
There is just one problem with a public library in Monroe - Monroe already has two libraries, the Monroe Lending Library and the Monroe School Library. Does Monroe need a second library? The answer varies depending upon who you ask. The more informed answers came from those who already use other full library facilities.
"I use the Midpointe location in West Chester and the resources are fantastic. Also, while the school does have a library, it isn't open to the students during the summer or to the public, in general," said one Monroe Resident. "I use West Chester as well and the Genealogy Dept at Middletown. Both are top notch," said another.
When asked what the likelihood is that Monroe indeed would get a library, Director Carroll said, "I honestly can't give you a likelihood of this project happening. Ultimately it is a library board decision, but the discussion has been happening for several months at our board meetings, which I find encouraging. But with all very serious, long-term decisions, the process is very long. "
Direcor Carroll went on to say, "The main hurdle at this point is to see if the city of Monroe and its residents actually want us there. As you could see at the council meeting and on Main Street Monroe, there is some concern for the Monroe Lending Library's continued presence in the city. Several members of council have expressed that our opening a facility there would create a duplicate service after the hard work of the Lending Library to establish itself over the years. That situation is in my mind. I meet regularly with Phyllis Sells and the Lending Library board to talk about how we can work together. We've had various success with that. I will be at the Lending Library meeting next week. So if I had to give a term to the likelihood of this happening, I would call it cautiously hopeful."
At this point there are no drawings of the proposed building, If this project is going to happen, the first thing that will happen is a lease will have to be finalized with the IGA building owner. Modifications to the former IGA will run between $500K and $1 Million.
Voice Discussion Links:
IGA to Be Turned into Public Library?