| | |
| --- | --- |
| LIGHT UP MIDDLETOWN SET TO OPEN NOVEMBER 25 | |
Monday, November 7, 2011 9:10:24 AM - Monroe Ohio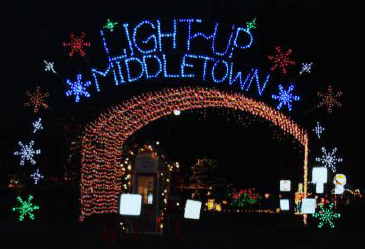 The lights will be switched on at 6 pm, the day after Thanksgiving, November 25 at Smith Park in downtown Middletown, Ohio. From that first burst of thousands of twinkling lights to New Year's Eve, December 31, the Light Up Middletown event will be entertaining guests as they drive-through the 100 acre park every night – rain, snow, or moonshine. Lights will be on 6-10 pm every night for 37 nights.
The family-friendly, admission-by-donation event, begins its 13th year with several new animated displays. An elephant, a giraffe, a ship, and a 3,400 bulb animated whale display join the favorites such as the 7,500 bulb Santa's Workshop display, the floating sea serpent, swans in the reflecting lake and many more holiday and fantasy displays.
Santa and Mrs. Claus will greet children every Friday and Saturday evening 7-9 pm through December 17. Photos available.
For one sparkling night, hot air balloons will join the displays to perform a balloon glow. Tuesday, December 7, is the scheduled date. In case of inclement weather, the event will be postponed to a more favorable evening.
Light Up Middletown attracted over 57,000 people in 2010 – bringing the 12 year total to over ½ million guests. Several school, senior center and motor tour buses visit each year. All arches accommodate large vehicles.
Volunteers, representing several local non-profit organizations, greet each vehicle and gather information used to fine-tune advertising for the next year. Volunteers this year represent Middletown High School Musical Arts, MHS Success Academy, Bulls Run Arboretum and American Association of University Women.
Donations at the entrance gate are used to improve Smith Park and purchase/repair displays. Those who visit the event each year as a family tradition will notice several displays with the newer, brighter, energy-efficient LED bulbs.
The all-volunteer Grandpa Gang crew erects, maintains and repairs displays. Their efforts began in mid-October and will extend through mid-January when all displays are stored safely away for the next year.
For more information contact Chairperson Flo Randall at 513-423-1877 or visit the website www.LightUpMiddletown.org.