| | |
| --- | --- |
| MACF Cornerstone Award goes to Phyllis Sells of Monroe | |
Monday, May 5, 2008 9:25:05 AM - Monroe Ohio
by MACF Staff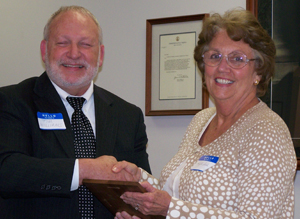 Each year the Monroe Area Community Foundation presents the Cornerstone Award to a person who displays an unselfish use of time or money—for no personal gain—for the betterment of the Monroe community. This year's award recognizing service to the community was presented to Phyllis Sells by Tim Williams (photo) at the MAFC's eleventh annual meeting on April 24, 2008. Mrs. Sells was instrumental in working to establish the lending library in Monroe.

President of the board of the Monroe Lending Library, Phyllis Sells was selected by the Cornerstone Award committee, who reviews all the nominations submitted from the citizens of Monroe. Previously employed as a librarian at Butler Tech (formerly Butler County Joint Vocational School), her expertise in library skills was vital to the project.

The lending library is located at 231 Macready Avenue in a modular behind Monroe Primary School It is operated strictly on a volunteer basis. Anyone interested in volunteering or in more information in general can contact Mrs. Sells at monroelendinglibrary@yahoo.com. To enter its online public access catalog or find out about upcoming events (both children and adult), go to www.monroelibrary.net.