| | |
| --- | --- |
| MEA President Letter to the Editor (Audio) | |
Tuesday, June 27, 2006 1:16:36 PM - Monroe Ohio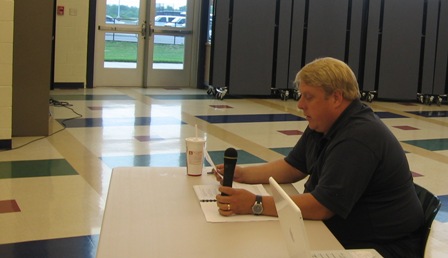 Listen to Scott Decker's Speech
Monroe Education Association
An Affiliate of the Ohio Education Association and the National Education Association
June 26, 2006
Dear Editor:
I am starting my fifth year as Monroe Education Association president. I am proud to be a member of the Monroe teaching staff, a Monroe resident, and I am proud of the progress of our district ó that includes teachers, support staff and, most importantly, our students.
I am also proud of the working relationship that has been established with MEA, the Board, and administration. Many times we approach a problem from different perspectives, but our mutual interest is always to reach a resolution.
This district is at a crossroads. Because of our current method of funding from the state, Monroe, like other districts surrounding us, is faced with a levy. It is essential that this levy pass if we wish to continue, not only with the same level of education for our kids, but also to move forward in a positive direction.
It is, therefore, with great concern and sadness when I read such negative statements regarding our district in the newspaper and on The Voice. I think these formats allow for incomplete information to be dispersed that leads our community to believe that there are all kinds of secret maneuvers being conducted. I have not met any employee ó and this includes the superintendent, treasurer, principals, teachers, custodians, and others ó who is not here for the children. As educators we are dedicated to the Monroe students and our decisions are based on their education.
Therefore, I do not want us to lose track of what this levy is about. It is not about Mr. Elam or Mr. Irwin or the staff. Itís about this community and the school district they wanted to develop, which they deserve! Itís about the students. Let us not lose focus!
Thank you.
Scott Decker
5th Grade Teacher 1952 Michelle Lane
M.E.A. President Middletown OH 45044-8034
Monroe Resident 513-539-2257