| | |
| --- | --- |
| MIDFIRST OHIO CHALLENGE WRAP UP | |
Tuesday, July 22, 2008 8:33:58 AM - Monroe Ohio
For immediate release
Information: Ann Mort, 513-649-4506, RMort@cinci.rr.com
July 21, 2008
MIDFIRST OHIO CHALLENGE WRAPS UP ANOTHER BALLOON EVENT AND PUMPS $3.8 MILLION INTO THE LOCAL ECONOMY
Hot air balloon competition winners were:
Rob Mihaly from Lakewood, OH, flying Boojum

Al Nels from Beavercreek, OH (A two-time World and two-time U S National balloon champion.),

Jim Cusick from Westerville, OH who beat his father who came in 6th, flying Butter Knot

Sean Askren from Middletown, OH, flying the Atrium Medical Center balloon

Dave Troutman from Louisville, KY, flying Celtic Cross

Rick Cusick from Lima, OH, 2005 Challenge winner, flying Arrythmia

James Wannemacher from Middletown, OH, flying Wayward Wind

Mike Emich from Akron, OH, last year's second-place finisher, flying Second Wind

Bob Zanella from Barberton, OH flying PA

DA

Rick Kohut from Louisville, OH flying Wind Trek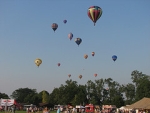 MidFirst Credit Union, primary sponsor of the event, had a few winners of their own. Raffle drawings in their sponsor booth were won by Scott Walker, tethered balloon ride, Rob Rickett who will be skydiving with Team Fastrax, and Natalie Baum who will be going on a hot air balloon ride with Dr. Mark Frazer. Proceeds from the raffles will be going to The Cure Starts Now – raising money for research into juvenile brain tumors.
As usual, a few people left MidFirst Ohio Challenge without some of their possessions. There were very few "found" items turned in to the information booth. However, there was one high-value item that organizers suspect someone is frantically seeking. If they will call 513-705-1770 and describe the item, Event Manager Paula Hale will be happy to return it.
A total of 59,097 people entered Middletown's Smith Park, site of the MidFirst Ohio Challenge on July 18-20, 2008. Based on a conservative multiplier used by those estimating economic impact for events, the total driven into the local economy was approximately $3.8 million dollars. An economic impact figure includes not only the amount of money spent at the event, but the estimated amount spent by guests on gasoline, hotel rooms, restaurant meals, etc. while they are in the area. It also includes expenditures by the festival organizers, vendors paying their workers, taxes, purchasing food items, ice, other products and performers' expenses, etc.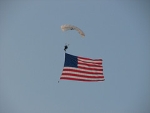 While temperatures soared, attendance figures were on a decline. Friday and Saturday entrance counts revealed a crowd at about the normal growth rate for an event; however the counts were lower than the 2007 record-setting numbers. That drop is attributed to the very warm temperatures vs rather pleasant temperatures in 2007. In 2008, the sweltering temperatures held crowds off until later in the day and the threatening storm clouds on Sunday caused a much lower count, according to event organizers.
MidFirst Ohio Challenge is particularly proud of the connection to other local non-profit organizations who either have vendor booths on site to earn money for their treasuries or are "paid" by the event to perform certain functions such as Police Explorer units helping park cars and the Middletown High School football team collecting trash.
There is a definite shift in the percentages coming from specific areas of Ohio and beyond. Official counters and data-gathering volunteers found that guests from Butler and Warren Counties make up 48% of the total compared to 70% in 2007 and 54% in 2006. Those driving one hour or less to reach the festival accounted for 72% of the total.
The number coming from beyond the one hour drive mark has risen dramatically from 16% last year and 19% in 2006 to 28% this year. Of the total, 88% are from Ohio and 12% come from 14 other states.
It is difficult to make assumptions based on figures, but organizers who talked with people on site and with those who called for information are assuming that many people are taking long weekend trips within a 100-200 mile distance to conserve gasoline. Several mentioned staying at local hotels as they took in the MidFirst Ohio Challenge, Dayton Air Show and other nearby attractions in Dayton, Mason and Cincinnati.
A more complete economic impact study will be available in a few days.
Winner of the grand prize, a hot air balloon ride or $300 in cash from the Duck Race was Virginia Earls of Trenton, OH.
Ann Mort
513-649-4506