| | |
| --- | --- |
| Monroe avoids toxic fumes, gas leaks and explosions | |
Tuesday, September 18, 2007 11:36:10 AM - Monroe Ohio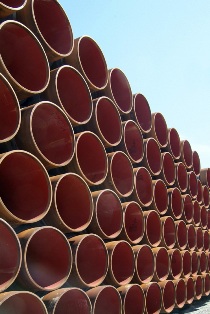 by John Beagle
The Rockies Express Pipeline is looking for another place to locate, partially due to the efforts of Steve Urso and his band of Voice Posters.
Authorities from the Rockies Express Pipeline did not reply to our inquiry regarding pressure from posters of the Monroe, Ohio forum called "The Voice."
Steve Urso posted this proposed protest of the pipeline:
Whether your effected by this or not we all need to come together on October 16th at 6pm at the City building and prevent Rockies Express from building compressor station in our town to top that off in a residential area! There will be council meeting also at a later date that people will need to make an appearance too. The only way according to high ups in our city to get these people out of Monroe is through the citizens of Monroe. So come out and speak on October 16th at 6pm at City Hall. Several reminders will be posted till then!
What is the Rockies Express Pipeline — East project?
Rockies Express Pipeline — East Project (REX — East) is the easternmost extension of the Rockies Express Pipeline (REX) system. REX — East will traverse approximately 638 miles from Audrain County, Missouri, to Monroe County, Ohio. For more info: http://www.rexpipeline.com/east_faqs.html
If you would like to comment:
http://www.mainstreetmonroe.com/Voice/topic.asp?TOPIC_ID=5451
------------------Letter from City Official -------------------------------
Many of you have provided comments regarding the Rockies Express Pipeline compressor station that is proposed north of Todhunter Road and east of the Britton Lane area. I have recently received various questions regarding the status of the proposal as well as questions about the Planning Commission process. As such, I want to provide you with a brief update regarding their proposal.

Late Friday afternoon (September 14th, 2007), the applicant requested a tabling of the applications for a proposed rezoning and a planned unit development overlay. It is my understanding that the applicant is seriously negotiating other options that include the possibility of the compressor station locating outside of the city limits. Due to these negotiations, the applicant has requested the tabling, and I would anticipate that because of various public concerns regarding the proposed compressor station, Planning Commission will table the case tomorrow, September 18th. If tabled, the case is indefinitely suspended until Planning Commission decides to hear the case. No public comment period will occur at tomorrow's meeting.

Accordingly, the earliest that a public hearing comment time could occur would be the November Planning Commission meeting (that is only if Planning Commission accepts the documents at their October meeting). If the proposals remain tabled for the October Meeting, the earliest a Planning Commission public hearing could occur would be December, etc. It is important to note that Planning Commission only makes a recommendation to City Council regarding the cases, at which time another public hearing would be scheduled for City Council, after a Planning Commission recommendation.

It is my understanding that if the Rockies Express negotiations are successful with a site outside the city, they will withdrawal their cases possibly within 4-6 week timeframe.

I hope that this brief email helps to explain the status/process of the proposed compressor station cases. Again, since we have had numerous inquires, and in the interest of time, I hope this email explains the compressor station status. Please feel free to contact my office, if you have any further questions.

Regards,

Kevin Chesar
City of Monroe, Ohio
Director of Development
233 S. Main Street
P.O. Box 330
Monroe, Ohio 45050
513.539.7374 (p)
513.539.6460 (f)