| | |
| --- | --- |
| Monroe Calamity Days - A Brief Explanation | |
Wednesday, November 14, 2007 1:09:52 PM - Monroe Ohio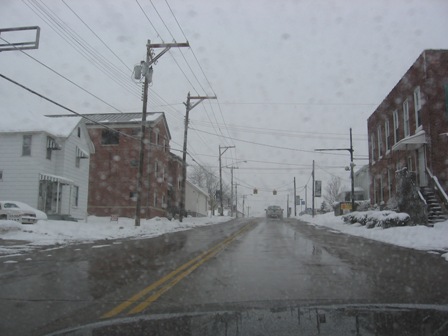 by Bill Rogers


Each year Monroe Local Schools has 5 Calamity Days to use before they are required to begin making up days at the end of the term in the summer. Calamity Days are typically used during the winter, when heavy snows and ice make the roads unsafe for students. Additionally, Calamity Days are sometimes used to deal for unforeseen non-weather related circumstances that might make the closing of a school necessary, such as a water main break, no heat, and so on.
There are two options open to the school district: one hour delay, or closing. The decision isnít taken lightly, and isnít made without consultation. The Monroe Police Department, the State Highway Patrol, local weather stations, other administrators at nearby area schools, and building maintenance staff may all be involved in the decision. Ultimately, the superintendent or his designee make the decision final though.
The responsibility of keeping the roads clear of snowfall falls to the city, but the responsibility of clearing sidewalks for students who may walk to school is the residentís. Please take care to clear your sidewalks of snow if you live near a school where students might be walking.
Following is a list of stations you can watch for notifications of school delays and closings:
Television
WDTN / TV Channel 2
WLW / TV Channel 5
WHIO / TV Channel 7
WCPO / TV Channel 9

WKRC / TV Channel 12
WXIX / TV Channel 19
WKEF / TV Channel 22
Intermedia Cable Ė Covington, KY

Radio
WKEF/TV CH 22
WHKO/FM 99.1
WING/FM 102.9
WHIO/AM 1290
WLQT/FM 99.9
WHIO/TV CH 7
WYSO/FM 91.3
WING/AM 1410
WTUE/FM 104.7
WMMX/FM 107.7
WDTN/TV CH 2
WGTZ/FM 92.9
WCLR/FM 95.3
WXEG/FM 103.9
WDKF/FM 94.5
WCPO/TV CH9
WLW/TV CH5
WKRC/TV CH12
WXIX/TV CH19
WVXU/FM 91.7

WKFS/FM 107.1
WOFX/FM 92.5
WMJO/FM 94.9
WLW/AM 700
WAKW/FM 93.3
WVMX/FM 94.1
WNKR/FM 106.5
WCNW/AM 1560
WGRR/FM 103.5
WNLT/FM 103.5
WEBN/FM 102.7
WIZF/FM 100.9
WKRQ/FM 101.9
WUBE/FM 105.1
WCKY/AM 1530
WARM/FM 98.5
WKID/FM 95.9
OHIO NEWS NETWORK
1450 THE TICKET
Discuss Calamity Days on The Voice