| | |
| --- | --- |
| Monroe Cheerleader Dress Controversy in National Spotlight | |
Tuesday, August 26, 2008 5:50:25 PM - Monroe Ohio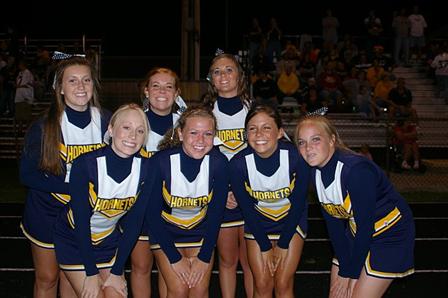 Photo: Monroe Hornet Cheerleaders Skirts violate new school dress code policy
by John Beagle

Southernheart, a Voice poster on this website was first to post the story that the Media, WLWT, Fox News, 700WLW and CNN are now reporting.
On her August 21th post she stated, "It was told to the cheerleaders today that they can no longer wear their uniforms to school because they do not meet dress code regulations....but they can wear them to cheer at the games. My understanding is they would wear them for Pep Rally's the day of the games, but that is no longer allowed. Maybe they are serious about enforcing the 3" above the knee limit on shorts..."
Another poster Lupa said, "The cheerleading skirts were getting a bit too short when we were in school, although we did not have A/C!!
I am sure if the cheerleaders are upset its because now they have to figure out another outfit to wear to school:)"
Karin Johnson of News5 verified how this news got to the major media outlets, "I can back you on that. I cover Butler County for channel 5. I saw the posting on Main Street Monroe last week and pitched the story idea to my producers. They thought this was a story everyone would have an opinion about so we ran with it. From there CNN and FOX picked it up and its been getting tons of hits on our website. It remains one of the most popular stories on our web. So popular, my producers are having me do another story on it today. So if you see the Channel 5 Van in Monroe, stop by and say hi.
Karin Johnson
News 5"
Here is the full Voice Discussion on Dress Code changes for Cheerleaders
Here is a subsequent discusson: CORRECTION ON WLWT REPORT
Channel 5 News, WLWT and MainStreetMonroe announced a partnership in May of this year. Read: WLWT Channel 5 and MainStreetMonroe.com Partnership Announced
Together, WLWT-TV Channel 5 and MainStreetMonroe.com hope to bring a more comprehensive view of Monroe, Ohio.