| | |
| --- | --- |
| Monroe Citizens on Speed Patrol | |
Monday, January 21, 2008 9:39:11 AM - Monroe Ohio
Steve Urso writes: "As I was driving home on Todhunter today going around 40mph some jerk passes me on double yellow lines on the rail road tracks going at least 55mph. So this leads me to the following: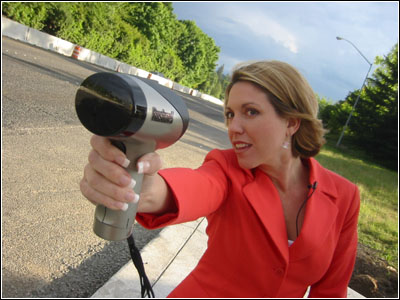 I think this is a good time to start a debate on whether or not Monroe should invest in a program like Citizens on Speed Patrol. Where the city buys Radar Guns and the citizens use the radar guns in various neighborhoods to catch speeders. I am not 100% sure on how this whole program works but I know Lebanon has a program where citizens help patrol the streets. From what I do understand you must get the same person more then one time and multiple pictures of their license plate and car and also their recorded speeds before any action can take place. I think some people that are more involved with the city could have more information about this program. So please elaborate if you know more about this program.
So my question for you the Monroe citizens. Do you favor a program like this? Why or why not?"

Councilman Tracy Shell Responds:
"Steven, If you send Chief Homer an email. You will find he is already working on this issue. The city of Lebanon has a program where citizen can sign out a speed gun and use it to record lic numbers of violators. they turn this information over to the police dept. After the lic is record 3 times an officer contacts the person.
The Chief is working on something along that line.
The first Town Hall meeting will be announced soon and traffic issues may be the main topic. I am still working out the details and speaking with the other council members. If you have any thoughts please send me an email."
TRACY SHELL
Contact me @
513-600-0366
tshell@cinci.rr.com
shellt@monroeohio.org
Discuss it on The Voice: Monroe Citizens on Speed Patrol