| | |
| --- | --- |
| Monroe City Council Rezoning Public Hearing To Take Place on March 12th | |
Friday, March 1, 2019 10:41:00 AM - Monroe Ohio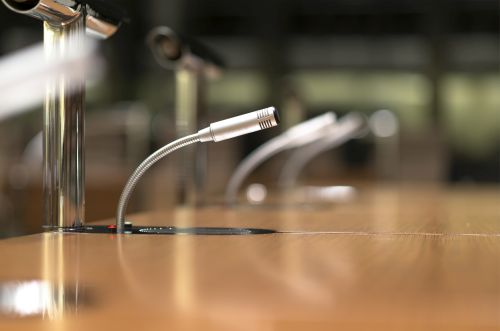 The Monroe City Council released an official notice announcing that the Council will be conducting a public hearing concerning rezoning on Tuesday, March 12. 2019 at 6:30 p.m. at 233 South Main Street, Monroe, in the City Council Chambers. The proposed rezoning would convert properties that are currently classified as Business Parks and General Commercial land into Light Industrial properties.
If passed, this rezoning could lead to more warehousing being built in Monroe. Once again, the general public is invited to this hearing, so if you are a citizen of Monroe who does or does not want more warehouses and warehousing jobs in Monroe, the council invites you to be heard and submit evidence or written comments for or against the proposed rezoning.
The proposed rezoning concerns the following properties: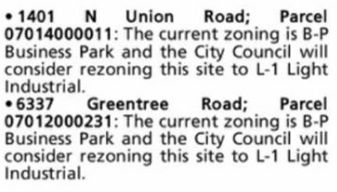 The city of Monroe will provide assistance to persons who have disabilities, those who need interpreters, and other auxiliary aids and services to those who require them in order to participate in this meeting, but requests for assistance must be made no later than 72 hours in advance by contacting the Clerk of Council at 513-539-7374 ext. 1012.

For more information regarding the proposed rezoning, visit the Clerk of Council's office at 233 South Main Street, Monroe Ohio 45050, email wassona@monroeohio.org with inquiries, or call the Development Department at 513-539-7374 ext. 1020.