| | |
| --- | --- |
| Monroe Civil War to Take Place over 2 Days in October | |
Sunday, September 25, 2011 3:06:57 PM - Monroe Ohio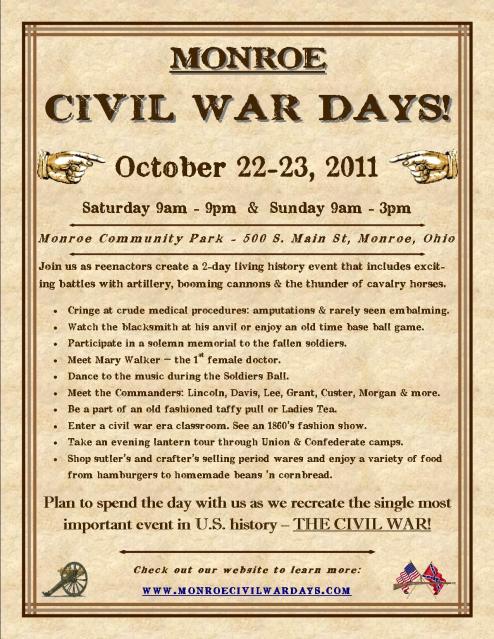 by Susan Wise
ATTENTION! ATTENTION!

Mark your calendars for the big weekend - October 22 & October 23 at the Monroe Community Park on S. Main St. Event hours are 9am - 9pm Saturday and 9am - 3pm Sunday.

There will be parking on site and shuttles from the IGA & old High School lots, running every 15 minutes from 11am - 6pm on Saturday & 11am - 4pm on Sunday.

A full schedule will be posted later & available on site. We are still adding more events as the excitement keeps building. You can also watch our website for updates: www.monroecivilwardays.com

There are a wide array of tents and booths to visit with different activities happening all day long. We have an exciting group of Commanders arriving - including Abraham Lincoln, Jefferson Davis, George Armstrong Custer, Robert E. Lee, Ulysses S. Grant and John Hunt Morgan. We have something rarely seen at a reenactment: a mortician performing a rare embalming. We have Dr. Mary Edwards Walker, first female US Army surgeon and only woman to receive the Congressional Medal of Honor.

Battles are at 2pm. (you'll want to arrive early). There will be rifles and cannon and, yes, cavalry horses.

We have gone above & beyond what we anticipated for a first year event. The National Underground Railroad Freedom Center and Cincinnati Museum of History will also be participating. Also joining us will be the Monroe Optimist Club, The Monroe Historical Society, the Monroe Garden Club and several Girl Scout troops, #42588, #41315, #47008, #41117 and Miami University – Middletown and Hondros College

To mark this special inaugural event, we will have a very limited number of commemorative coins for sale at the Command Post.

The Ladies Tea has extremely limited seating. Please RSVP for tickets or stop by the Command Post Saturday morning.

I want to take this opportunity to give a HUGE THANK YOU to our sponsors!!

The Monroe Area Community Foundation
The City of Monroe
The Red Onion Cafe
Mark Bursley
Iron Wind Metals
CDS Associates, Inc.
BEI Trailer and Container
Compressed Air Technologies
The Comfort Inn Monroe - there are discounted $41.99 rooms available!
Crown Electric
Central Ready Mix
The Monroe Inn (formerly Hampton Inn)
Vincent Rush Photography
and without this group and their vision, we would have no event: The Confederate States Marine Corps, Co B, Ohio River Detachment

Oh, and its never too late to volunteer: monroecivilwardays@gmail.com.