| | |
| --- | --- |
| Monroe Council Agenda for September 27, 2011 | |
Friday, September 23, 2011 10:54:15 AM - Monroe Ohio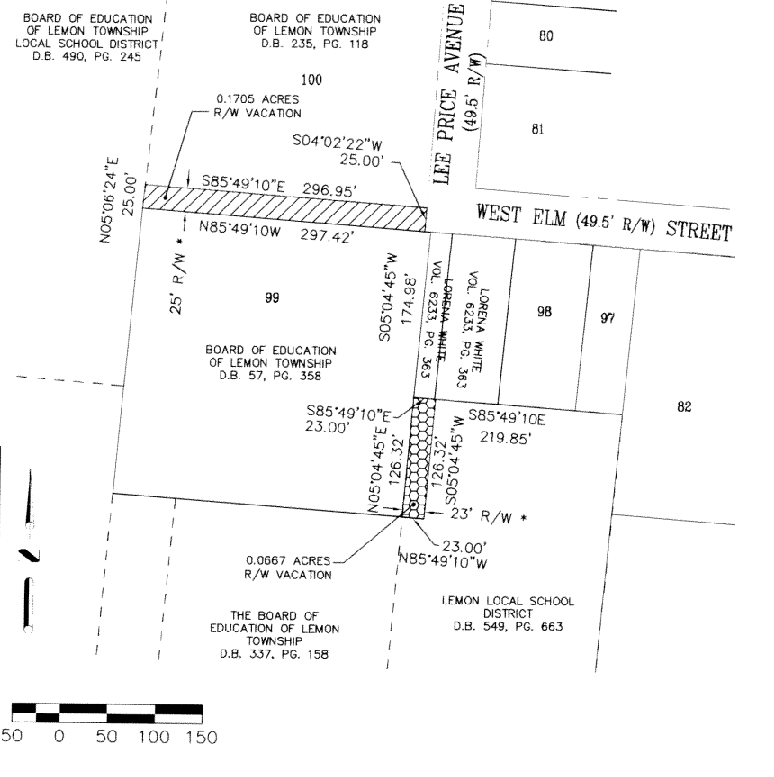 Image: Monroe to Vacate 'Right-of-Way' plots indicated above. (Subject to approval by Council)
by John beagle
Summary of Council Agenda:

There are 4 agenda items on Tuesday's agenda. Although committee reports are being listed on every agenda, there have been no reports made available this year with the exception of a public works committee report and a finance report. All other committee's may or may not be meeting. No further information is available about committees of council.
EMS Billing Collection Company
Council will again legislate on Resolution 48-2011 a service agreement for EMS Billing collections, this is a second reading. Council originally questioned if there were other bidders, there were. In a memo obtained by Monroe News, Finance Director
Kacey
Waggaman
stated, "RBC charges the same rate as Capital (25% of what is collected) and is much cheaper than
RPS
(30 – 40% depending on age of account). RBC is the recommended contractor.
Councilwoman
Stillman
requested the ability to listen in on collection calls. RBC confirmed that they will allow a representative from the city of Monroe to listen in on calls.
In this case a Competitive bid is not required. According to City Manager Bill Brock, "under the existing purchasing policy, quotes are not required if purchasing is classified as a professional service, which this contract would qualify. Our policy reflects the policy of the State in this area. If Council wishes to revisit this policy I would suggest that this item be recommended to the Finance Committee for review."
Monroe Solid Waste Plan
At the last meeting council heard from the Solid Waste District about the plan. Butler County has been working to improve the flow and distribution of Solid Waste and this plan furthers those efforts. Here is some background, Anne
Fiehrer
Flaig
, District Coordinator for the Butler County Recycling and Solid Waste District, gave a presentation to City Council on the required updated Management Plan that Monroe Council will be requested to approve at a future meeting. The plan must be ratified by elected officials representing 60% of the total population in the County and right now she has 41% of the elected officials in Butler County.
New

Garver

Road Dedication
Ordinance 2011-27 – New
Garver
Road Dedication: It was recently brought to our attention that the dedication of New
Garver
Road had never been recorded by the City after its construction in the late
1980s
. This legislation will provide the legislative authority to dedicate the real property underlying that roadway.
Property Consolidation near Old High School
Ordinance 2011-28 – Vacating Right of Way: In an effort to consolidate the property that the Old High School and existing primary school sit on the city as been asked that certain right of way within those properties be vacated. The City has not maintained those rights of way since City Manager Brock has been with the City and the city has no desire or use for them under the current organization of the land. This will allow for consolidation of lots within the property which will hopefully promote ease of future development.
Full Monroe Council Agenda:
Regular Meeting of Council
September 27, 2011 – 6:30 pm
233 South Main Street, Monroe, Ohio
Pledge of Allegiance
Roll Call
Approval of the Minutes – Council Minutes of September 13, 2011.
Visitors
Committee Reports
Public Works Committee
Finance Committee
Administrative Liaison Committee
Technology Committee
Public Involvement Committee
Public Safety Committee
Old Business
Resolution No. 48-2011. A Resolution authorizing the City Manager to enter into an agreement
by and between the City of Monroe and RBC Inc. for collection services. (Second reading)
New Business
Resolution No. 49-2011. A Resolution approving the Solid Waste Management Plan of the
Butler County Solid Waste District.
Ordinance No. 2011-27. An Ordinance ratifying and approving the dedication of real property
to be used as public right-of-way known as New
Garver
Road.
Ordinance No. 2011-28. An Ordinance vacating a portion of Lee Price Avenue and West Elm
Street.
Administrative Reports
Adjournment