| | |
| --- | --- |
| Monroe East End 420 Acre Vandercar Project to Start Soon | |
Tuesday, October 30, 2007 6:03:39 PM - Monroe Ohio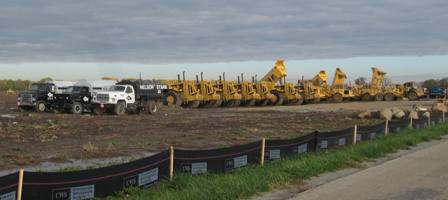 by John Beagle
The City of Monroe will launch of its Corridor 75 Industrial Park when the rains let up, the developer, Vandercar Holdings announced today.
According to the Business Courier in Cincinnati, the develpoer had planned to dig the foundation for the first building in the first phase of the 420-acre project on Thursday. But record rainfall last week has caused the firm to postpone its scheduled groundbreaking.
The site will be developed in three phases. The first phase, a 120-acre parcel, includes the construction of one speculative building.
"Future construction on that phase will happen based on the needs of specific users," said Kimm Coyner, Warren County's economic development director.
It also marks the first project of the Warren County Port Authority, the entity that will oversee the development of the project and will issue bonds. The authority will issue $7 million in bonds for the first phase and up to $17 million for the entire project. The developer also will receive up to $14 million in tax increment financing from the city of Monroe, Coyner said.
"It's an exciting project for the county," Kimm Coyner said. "It should make us a leader in regional logistics and fulfillment centers."
The 770 acre Corridor 75 Park development site is curently owned by the Guttman family, local attorney Greg Pratt and real estate broker Lenny Robinson. The Guttmans own and operate Hills Communities, one of Cincinnati's biggest residential developers.
Vandercar signed a development agreement with Monroe in June and announced plans to build up to 7 million square feet of fulfillment and distribution facilities on the site. It could employ as many as 6,000 people.