| | |
| --- | --- |
| Monroe Hornets Begin 2011 Football Season | |
Monday, August 29, 2011 1:36:42 PM - Monroe Ohio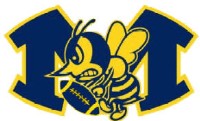 By: Tim Kellis
Monroe welcomed the Panthers from Little Miami into Hornet Stadium to kick off the 2011 football season only to see their home and season opener spoiled when a late 4th quarter rally fell short.
Monroe got on the board first at the 8:18 mark of the first quarter when junior RB Chris Wilson darted around left end and raced 65 yards for a Hornet TD. Andrew Shaffer knocked home the PAT giving the Hornets an early 7-0 lead. Littler Miami matched the Hornets score courtesy of a 13 yard run by their senior workhorse running back Logan Cain. Cain finished the night with 99 yards and did not see action during the 2nd half to a possible concussion.
The two teams traded 27 yard field goals within moments of each other late in the third quarter and early in the fourth quarters. First it was Monroe's Andrew Shaffer drilling home a 27 yarder with 57 seconds to play in the 3rd and with 10:41 To play in the game Tyler Shackleford was good from 27 yards.
Shackleford was good again from 27 yards with only 1:49 to play in the game but the never say die Hornets were not done. Monroe downed the Little Miami kickoff at their own 33 and quickly marched down field behind the running and throwing of Senior Ramone Boyce and a heads up play by Scott Rupp. Rupp snatched the pigskin out of the air when Boyce was blasted from behind while attempting to pass, and rambled 18 yards giving the Hornets hope with less than a minute to play. With no timeouts left and 16 seconds to play Boyce lofted a game winning TD pass into the left corner of the end zone only to see the ball fall fingertips out of the reach of the intended receiver. On the ensuing play, Boyce, having to scrambled was stopped short of the first down and unfortunately for the Hornets, the clock ran out before the Hornets field goal team could get linedup to attempt the game tying field goal.
Wilson led all rushers with 124 yards.
Monroe travels to Ross next Friday evening for their 1st road test of the year.