| | |
| --- | --- |
| MONROE LENDING LIBRARY SEPTEMBER AND OCTOBER 2012 | |
Thursday, August 9, 2012 12:01:38 PM - Monroe Ohio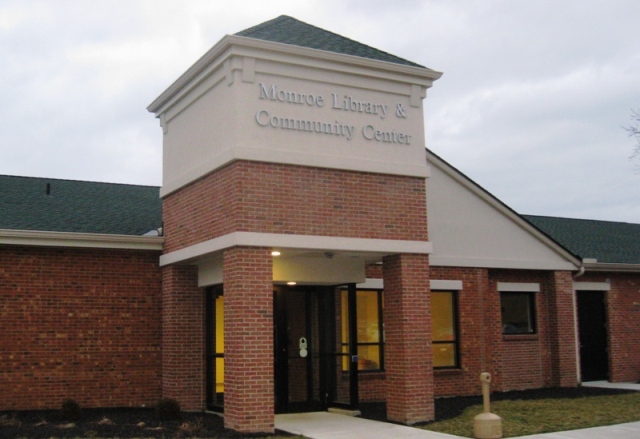 MONROE LENDING LIBRARY SEPTEMBER AND OCTOBER 2012
.by Peggy Abernathy

The Library is located at 6 East Avenue, Monroe, OH
Hours are Monday – Thursday 10 a.m. – 8 p.m.
Friday and Saturday 10 a.m.- 2 p.m.
Telephone 513-360-0100
CHILDREN'S LIBRARY SEPTEMBER
Saturday, September 8th 11 a.m. Craft and Storytime
Book A FINE FINE SCHOOL
Craft Make a Tic Tac Toe Game

Saturday, September15th 11 a.m. Storytime
Books I BROKE MY TRUNK and SHOULD I SHARE MY ICECREAM?
ADULT LIBRARY SEPTEMBER
Thursday, September 20th 6:30 p.m. Needlecraft Group
Perfect time to make a wrap for fall days coming or needlework or learn a new craft.
Monday, September 24th 7:00 p.m. Book Review
CHILDREN'S LIBRARY OCTOBER
Saturday, October 13th 11 a.m. Storytime
Books LLAMA, LLAMA HOME WITH MAMA and LLAMA, LLAMA MAD AT MAMA
Saturday, October 20th11 a.m. Storytime and Craft
Book HALLOWEEN MONSTER
Craft Make Halloween Puzzle
ADULT LIBRARY OCTOBER
Thursday, October 18th 6:30 p.m. Needlecraft Group
Join us for a new craft or finish the project you are working on.
Monday, October 22nd 7:00 p.m. Book Review Group
MONROE LENDING LIBRARY QUARTER AUCTION
PLEASE NOTE, AUCTIONS ARE NOW SCHEDULED ON SATURDAYS
AT THE NEW LIBRARY/COMMUNITY CENTER
6 EAST AVENUE, MONROE OH
Monroe Lending Quarter Auctions will be held on Saturday, September 15th and Saturday, October 6th 2012 from 7 p.m. – 9 p.m.
Seating and preview starts at 6:15 p.m. All proceeds donated to the Library Building and Operating Fund. Bidding paddles are $1.00 each. Please bring quarters for bidding. Refreshments are available for purchase. The Quarter Raffle features products from the following companies:
Vera Bradley Happy Hour!
Southern Comfort Avon Avenue
Elegant Expressions Celebrating Home
The Gift Card Guys Bare Paws Animal Stuffing
Gold Canyon Candle Pampered Chef
Thirty One
Seating is limited. It is best to reserve a seat in advance by contacting Judy Mann 513-594-4845 (cell).
Thank you for helping to support the Monroe Lending Library Building and Operating Fund.