Friday, May 4, 2012 2:08:24 PM - Monroe Ohio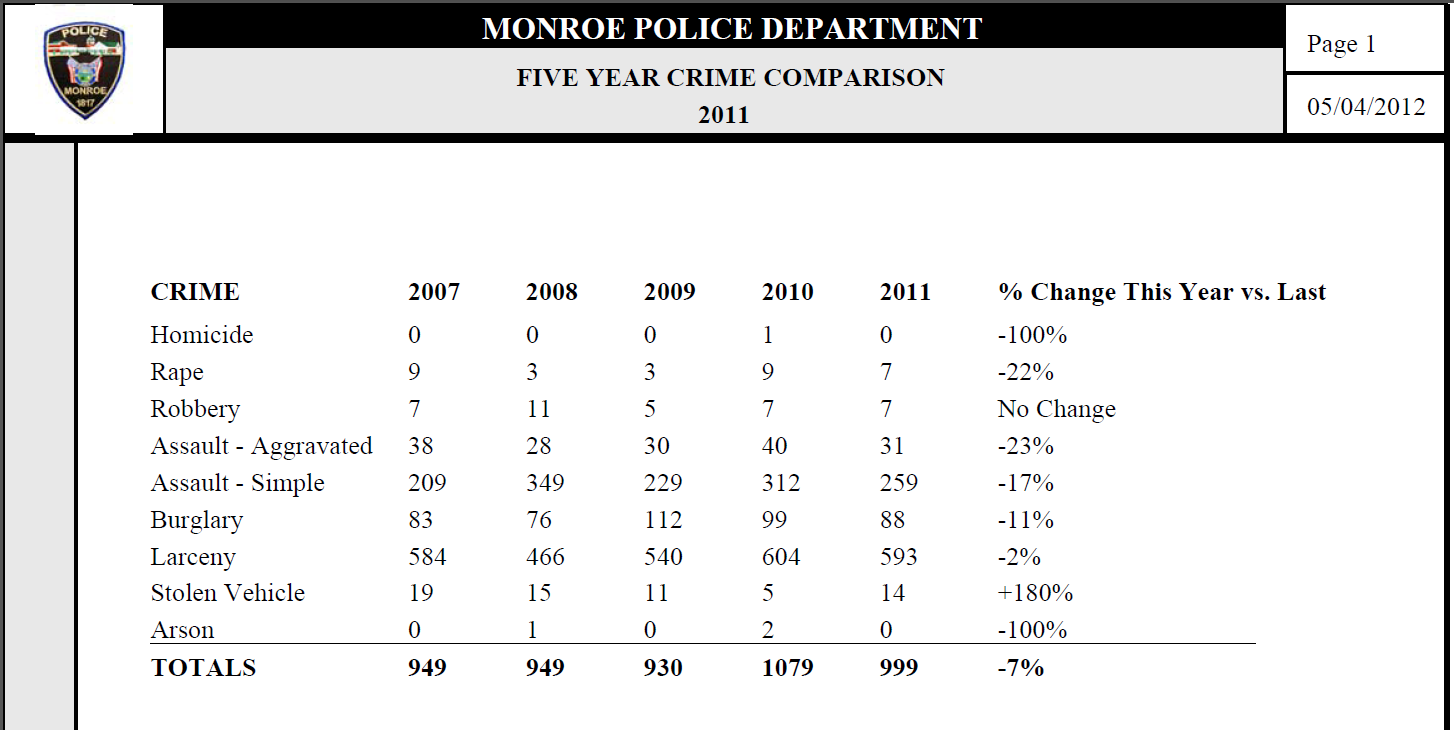 by John Beagle

According to a five-year crime comparison report recently obtained by Main Street Monroe News, crime in Monroe dropped 7% from 2010 to 2011. In 2010 there were 1079 crimes reported compared to 999 reported in 2011.
The biggest contributing factors to the decline were aggravated assault (dropped 23%) and simple assault (dropped 17%). Simple assaults numbered 312 in 2010 but dropped to 259 in 2011. Rapes were down 22% from 9 to 7 and robbery remained constant at 7.
On the plus side, stolen vehicles were up 180%. Monroe went from 5 stolen vehicles being reported in 2010 to 14 in 2011. From 2007 to 2011 stolen vehicles went from 19 - 15 - 11 - 5 - 14.
There has been only 1 reported homicide in Monroe over the past five years. That happened in 2010 when Kristina Hensley, 35 of Higginsport, drug Jae Cho 31 of Monroe from in front of his residence on Timrick Place to the Shell Station. "This lady came in hysterical," Hoffman said. "She said, 'Can you call 911? It was an accident. He jumped out in front of me.'" Hoffman, 50, of South Lebanon, said she looked under the woman's car, and all she could see was "his mangled body."
There have been 3 arson reports, one in 2008 and two in 2010. One of the two 2010 arson reports can from a meth leb in the 800 block of South Main. A short time before 4:30pm, Monroe Police Officer Matt Rykoskey had contact with Jayson Banks and dropped him off at his home, located at the 800 block of South Main Street. The officer noticed heavy black smoke coming from the front door as Banks entered the home. Officer Rykoskey yelled for him to come back out of the house. Banks told Rykoskey that his sister was inside. Officer Rykoskey attempted to go inside the house but was drawn back because of the heat and smoke. When asked how the fire may have started, Jayson banks was hesitant, then told police that he was cooking. When asked was it meth that he was cooking, he replied yes. (Continued)
Violent crimes include homicide, rape, robbery, and aggravated assault. Monroe had 45 violent crimes in a city of approximately 12,000. For comparison purposes Monroe's violent crime rate dropped to 375 per 100,000 residents in 2011 from 473 in 2010. Violent cities like Detroit have a violent crime rate of over 1100 per 100,000 residents. Safe cities such as Bellevue, Washington have violent crime rates around 100 per 100,000 residents.