| | |
| --- | --- |
| Monroe Quarter Auction - August 22 | |
Monday, August 11, 2008 8:56:39 AM - Monroe Ohio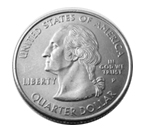 Friday, August 22, 2008
7:00 - 9:00 PM
Seating and Preview starts at 6:30
*****NEW LOCATION*****
Mount Pleasant Retirement Village - Activity Center Corner of Indiana Ave. & Northwestern Ave, - Monroe, OH
All proceeds donated to the
Monroe
Lending Library Building and Operating Fund.
1 FREE Charity Raffle ticket for wearing BLUE.
3 FREE tickets for each NEW guest you bring. 1 FREE ticket for you if you are new!
Additional Charity Raffle tickets are sold 3 for $1.00 or 20 for $5.00!!
Bring the Most NEW Guests to our auction and receive $10.00 in Quarters!!
A new guest is someone who has never attended the Monroe Quarter Raffle
If there is a tie, quarters will be split among the winners.
**Split the Pot Raffle** - tickets are sold $1.00 Each or 6 for $5.00.
At the end of the night we will draw a winning ticket and you get half of the
money collected that night! The other half goes to the library.
July's winner took home $134.50!
Quarter Raffle features products from the following companies.....
Bare Paws Animal Stuffing, The Pampered Chef, Stampin' Up!, Gold Canyon Candles, Jolly Polly Studios, Home Interiors, Discovery Toys, Creative Memories, Tupperware, Avon, Tastefully Simple, and Mary Kay
Please Bring your own Quarters!! No other coins please.
Bring your friends and family and come have some fun!
Bid on everything for around $35.00!
Refreshments available for purchase.
FREE Door Prizes given away!
RSVP by Thursday, August 21st to Judy Mann at 539-2158
or judyandlarry@yahoo.com to reserve your seat - space is very limited!
Thank you for your generous donations to the Monroe Lending Library Building
and Operating Fund.

We were able to donate $319.50 in July!!