| | |
| --- | --- |
| Monroe Receives Award From State For Excellence in Financial Reporting | |
Monday, January 24, 2011 3:44:39 PM - Monroe Ohio
Monroe received the "Making Your Tax Dollars Count Award" from the Auditor of State Mary Taylor.
Monroe's 2009 Comprehensive Annual Financial Report (CAFAR) was considered for and won the award for upholding the high accounting standards, a commitment to careful spending and reporting accuracy.
Certain criteria must be met to receive the "Making Your Tax Dollars Count" award including:
- no findings or issues present in the audit report.
- no other financials concerns involving the entity.
Fewer than five percent of all Ohio government agencies receive this award.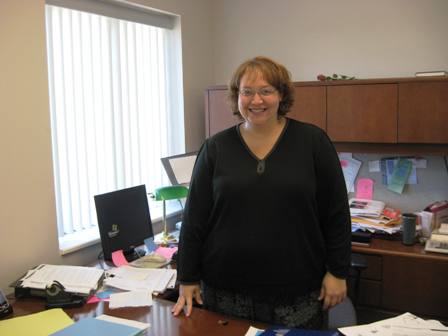 Photo: Kacey Waggaman, Monroe Finance Director in her office at the city building.
"I am honored that Monroe has been selected to receive this award", said Kacey Waggaman, Monroe's Finance Director "It shows how much Monroe's elected and appointed officials value financial responsibility. Monroe's Finance Department is dedicated to ensuring that each tax dollar is spent appropriately and that is something the City's Council, staff, and residents can take pride in. I'd like to thank my staff for all their hard work and dedication that has led to this recognition." -source: City Website
ABOUT:
The Ohio Auditor of State's Office is one of the largest accounting offices in the nation. The office strives to ensure that all public funds are spent legally and appropriately and works aggressively to root out fraud, waste and abuse in public spending.
The Ohio Auditor of State's office is a leader in the accounting and auditing field, earning prestigious national honors from the Government Finance Officers Association, the National White Collar Crime Center and the National State Auditor's Association.
____________________________________________________________________
The Security Camera Blog

Get a regular infusion of new security camera technology information, video and news. Easy to subscribe in a reader or by email.
We help you stay in touch with the latest security camera features.