| | |
| --- | --- |
| Monroe Schools: $2.7 million deficit for FY12 | |
Wednesday, November 16, 2011 11:41:38 AM - Monroe Ohio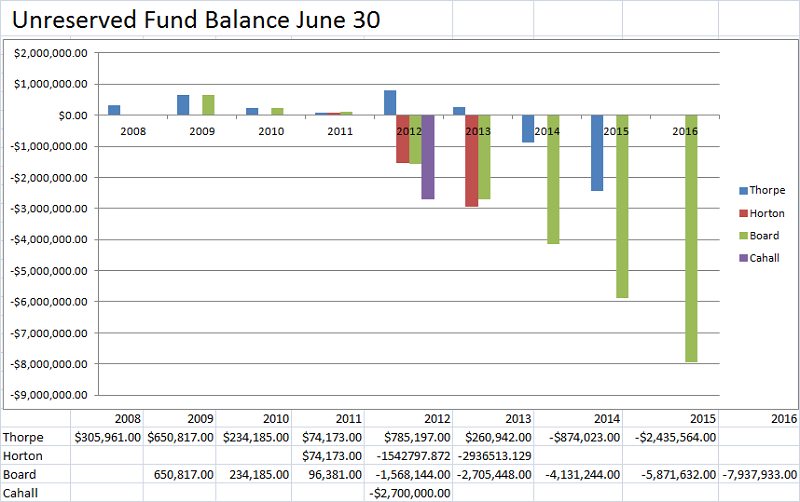 The Graph Above Shows forecasts from former Monroe Schools Treasurer Thorpe, Ohio DOE Auditor Horton, MLS School Board and current Treasurer Cahall.
by Lauree Kaiser

After several weeks of reviewing the district finances for the past several years, the new treasurer of the Monroe Local Schools has verified that the district has a deficit for FY12 of $2.7 million. The Board of Education and administration must submit a plan of action to reduce the deficit by June 30 to the Ohio Department of Education.
At this time the Board of Education and the administration are seeking public input. Meetings will be held at various times over the next week before the Board meeting on November 28.
Meeting times are as follows. Meetings will be held at 500 Yankee Road in the Board Conference Room.
Monday, November 21 - 8:30 AM, 11:00 AM, 4:00 PM, 6:30 PM
Tuesday, November 22 – 9:00 AM, 2:00 PM
This is the forecast that was filed at the end of October. Please note that the deficit in the bond retirement fund is not included in this OPERATING forecast.

Five Year Forecast Filed October 2011.pdf

For Comparason Purposes, here is the May Version (Kelley Thorpe) of the 5 Year Forecast:
Monroe LSD May 2011 Five Year Forecast Update.pdf